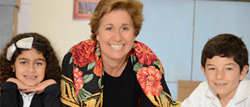 Los Angeles, CA (PRWEB) February 03, 2015
Tami Weiser has been named the new Head of School at Wise School in Los Angeles. Wise School Principal for five years, Weiser now rises to the school's top leadership position. She succeeds Rabbi Yoshi Zweiback, who on July 1, 2015, will become Senior Rabbi of Stephen Wise Temple, and will continue to be very engaged in the management of Wise School.
Weiser's training and experience make her uniquely suited for the role of Head of School. After graduating from UCLA with a degree in psychology, Weiser earned her teaching credential and then an M.A. in education. She is an exceptional teacher with more than 10 years of classroom experience at LAUSD as an instructor in grades 2-6.
She has a wealth of experience as an administrator, having coordinated a magnet school for gifted students, served as an Assistant Principal, and as Principal for a variety of public schools in Los Angeles. Immediately prior to being recruited to join Wise School as our Principal in 2010, Weiser served as Head of School at Heschel West for two years and acquired an additional M.A. in Educational Administration at Cal State, Northridge.
Weiser's contributions to Wise school are many. Perhaps most significantly, it was Weiser who initiated the school's partnership with the USC Rossier School of Education, and she has been a champion of the development of the school's Wise Learning Process. The school's recent honor of being granted the Five Star Award for Gifted Education by the California Association for the Gifted is a direct result of her leadership in this area.
Wise School is a Jewish day school in Los Angeles with an exclusive curriculum developed in partnership with the USC Rossier School of Education. Wise School empowers children with a strong foundation in science, mathematics and the arts; and inspires children to learn deeply, be creative and experience wholeness. Specialized programs include: language immersion, Artist in Residence workshops, Music Innovation Lab, Project Studio (inquiry-based social studies), The Jewish Lens, and an international student exchange. Wise School draws students from Beverly Hills, the San Fernando Valley, West L.A., Santa Monica, Los Angeles and beyond.