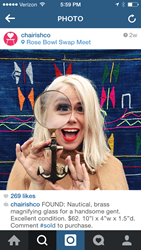 West Palm Beach, FL (PRWEB) February 03, 2015
Chairish.com, the online marketplace to buy and sell vintage furniture, decor, jewelry and accessories, is teaming up with Domaine editor and interior design expert Julia Millay Walsh for #ShopChairishLive, their signature Instagram shopping event. On Sunday, February 8th, vintage furniture and accessory fans are invited to watch Chairish's Instagram account for a real-time feed of Walsh's curated finds, hand-picked that morning from the West Palm Beach Antique Sale. As Walsh uncovers Chairish-worthy pieces, a new item will be featured every few minutes on Chairish's Instagram account, along with the price, inclusive of US shipping, dimensions, and a detailed description. To purchase a piece, the first shopper to comment "#sold" in the comments of the item's Instagram photo will be contacted via Pay With Penny - a service that facilitates transactions on Instagram – to proceed with checkout.
As an avid explorer of San Francisco's opening art shows, undiscovered restaurants, or charming indie boutiques, Julia Walsh makes a great addition to #ShopChairishLive. With her role as editor of Domaine Home, Julia has the pleasure of writing about the latest interior design trends, as well as the most current local entertainment, culture, and style news in the SF Bay Area. Chairish is lucky to have such an adventurous and passionate tastemaker representing their brand.
#ShopChairishLive will be held Sunday, February 8th from 9am to 11am PST. To participate in the sale, go to http://instagram.com/chairishco and watch as new treasures are featured throughout the morning.
About Chairish
Chairish.com and their mobile app make it fun and easy for design lovers to buy and sell vintage and pre-loved furniture, decor, jewelry and accessories. Chairish exclusively features curator-approved treasures in a full service and trustworthy environment. The site delivers inspiration, convenience, and newfound value to both buyers and sellers who share an obsession with fabulous finds.