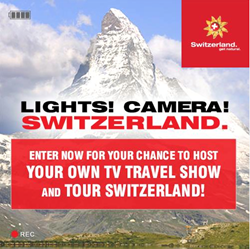 We're very excited to help someone realize their travel dream!
New York, NY (PRWEB) February 05, 2015
Always dreamed of TV stardom? Always dreamed of going to Switzerland? Then Switzerland Tourism is offering the chance of a lifetime to one undiscovered star.
Switzerland Tourism in partnership with ©Kinson Entertainment – a full-service hybrid advertising/entertainment production company headquartered in Burbank, California – is announcing its search for television's next "Travel Star".
Entrants from the U.S. and Canada will audition online for the role of a lifetime: the opportunity to host "The Grand Tour of Switzerland", a one-hour TV special set to air nationwide next fall.
"This innovative, integrated Marketing initiative includes a talent search, which is a first for Switzerland Tourism", said Alex Herrmann, Director Americas of Switzerland Tourism."We're very excited about this program, and we hope to show the wonders of Switzerland through the eyes of someone passionate and enthusiastic."
"Lights! Camera! Switzerland." provides an unmatched opportunity to jump-start a career as a TV personality and also earn a $10,000 appearance fee for hosting the show. The chosen host's 10-day journey will be designed to introduce viewers to the "Grand Tour of Switzerland", highlighting popular summer destinations including Bern, Lucerne, St. Moritz, and the most scenic trains of the Swiss Travel System.
Prospective hosts should now visit http://LightsCameraSwitzerland.com to apply. Entrants will be asked to submit a headshot and a short description of why they would make the perfect host for "The Grand Tour of Switzerland." In addition, entrants can include a video audition or sample of their on-camera presenting skills.
Finalists will be selected based on creativity, originality, and by an expert panel. The winner will be crowned by online audience votes. In May 2015, the winner will be notified to pack his or her bags, and by the end of June fly with SWISS International Airlines to the Swiss Alps for 10 days with Kinson Entertainment's production team.
Switzerland Tourism is the official National Tourist Office of Switzerland and operates in 30 countries around the world with the goal of promoting Switzerland as a travel, vacation as well as a convention and incentive destination. In the Americas, Switzerland Tourism operates offices in New York, Los Angeles, Toronto and São Paulo.
For more information: http://www.myswitzerland.com
CONTACT FOR MORE INFORMATION
Canada
Ursula Beamish-Mader, Manager Media Relations North America
480 University Ave, Suite 1500, Toronto, ON M5G 1V2
Phone: 416-695-3496, Email: ursula.beamish(at)switzerland(dot)com
EVEN MORE INFORMATION
Media Corner
Do you want to be up to date about our news, media tours and press trips, or discover lots of useful information? Check out our Media Corner. More: mediacorner.stnet.ch/us/
Pictures
http://www.swiss-image.ch, username: stna, password: swisspix