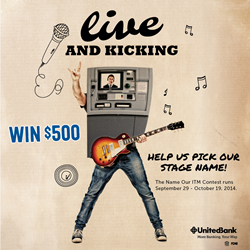 "The Live & Kickin' Name Our ITM Contest was a great opportunity to utilize social media for an unlikely industry, banking." - Lori Martinez, United Bank
Atlanta, GA (PRWEB) February 05, 2015
infinitee, a full-service, strategic marketing agency in Atlanta, GA strategized and implemented a successful social media contest to introduce United Bank's new-to-market Interactive Teller Machines (ITM) to its customers. United Bank, headquartered in Zebulon, GA, serving 9 counties with 18 branches across the state, challenged infinitee to develop a comprehensive and creative social media strategy that would achieve the following objectives:
1. Increase customer participation and acceptance of United Bank initiatives, specifically ITMs
2. Increase customer awareness of the ITMs, including uses and customer benefits
3. Gather demographic and geographic market research data for participants
The solution was a Facebook contest titled, "The Live & Kickin' Name Our ITM Contest." infinitee produced a strategy inclusive of contest themes, creative design, copywriting with calls to action, and promotion and outreach strategies to encourage participation. infinitee also solicited an appropriate third party contest app, integrated the contest through a custom Facebook app and provided a crisis management plan to be followed by internal bank personnel. Additionally, infinitee designed all contest graphics to work within the established United Bank brand.
The Live & Kickin' Name Our ITM Contest was open to the public from September 22 – November 2, 2014 and consisted of a fan gate requirement to Like the United Bank Facebook page, 3 ITM name entries per participant and a chance to win $500 if selected the winner.
Within a month's time, the contest garnered more Likes, Reach and Engagement than in the history of United Bank's Facebook presence. The customer base's willingness to engage with and have a social relationship with United Bank online, revealed the customers' appreciation and acceptance of the ITMs in the marketplace, and opened doors for a multi-platform digital strategy opportunity between web and social media to cater to United Bank's followers. Results are as follows:

Increased United Bank's email database by a total of 157 participants estimating 471 entries.
Increased Facebook page likes by 9% to 2,742 for a total of 301 new likes, averaging 10 per day throughout the contest.
Increased social media reach to over 16,000 through organic efforts and word of mouth marketing.
Increased website traffic to the home page as the leading external referral.
"The Live & Kickin' Name Our ITM Contest was a great opportunity to utilize social media for an unlikely industry, banking. It really showcased the positive effects social media can have on any industry, especially one centered on customer service and satisfaction. We are very pleased with the results and know the fans had a great time coming up with names!" – Lori Martinez, United Bank
Effective financial marketing services are hard to come by and infinitee provides this expertise. With its team of marketing experts, infinitee is sure to deliver customized solutions and results contributing to your bottom line. For more information on infinitee, call Managing Partner, Jocelyn Smith (404) 231-3481, visit http://www.infinitee.com, or find us on Facebook.
About infinitee
infinitee is a strategic real estate marketing and advertising agency that understands how to improve brands, communications and customer experiences. With a focus in real estate, its strategic and creative solutions build brand equity and drive sales for companies across the country. infinitee's expertise has proven invaluable to national and southeast regional brands wishing to strengthen and grow their bottom line, including: OliverMcMillan, Cousins Properties, Parkway Properties, PM Realty Group, Tanger Outlets, Craig Realty Group, Lennar Commercial Investments and Banyan Street Capital. Through all facets of advertising, collateral, digital media, and brand strategy, infinitee creates award-winning marketing and innovative communications.
###