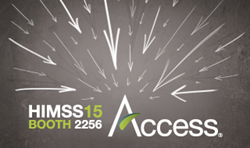 MEDITECH recommended Access and the companies' systems work very well together.
Sulphur Springs, Texas (PRWEB) February 17, 2015
As one of the leading healthcare facilities in Georgia, Rockdale Medical Center (RMC) is committed to providing the best possible care and service to patients at its 138-bed acute care hospital. To improve patient satisfaction with the registration process, RMC decided to implement an electronic forms and electronic patient signatures solution from Access in late 2014.
"Patients didn't like having to sign so many paper forms," said Stephanie Fowler, RHIA, HIM Director and Privacy Officer at RMC. "Now they just sign electronically on signature pads, which is much more convenient."
In addition to improving patient satisfaction, the Access solution is also benefiting registration staff members, who no longer have to remember which forms go with which patient or payer type.
"The Access system builds forms packets automatically based on payer rules, so registrars don't have to think about which forms they need," Fowler said.
Now that RMC is using electronic forms, only the latest versions are available to staff members and forms are created using a standardized process, eliminating version control issues.
"We can show that there's a consistent forms process using up to date documents, which helps from a compliance standpoint," Fowler said. "The e-forms are also better quality."
Once a patient completes their registration packet and applies electronic signatures, the Access system sends the completed documents directly into the correct EHR.
"MEDITECH recommended Access and the companies' systems work very well together," Fowler said.
About Rockdale Medical Center
Rockdale Medical Center (RMC) is a vital part of the community, dedicated to making Rockdale County and the surrounding area a healthier place to live. RMC's 138-bed acute-care hospital offers an extensive range of in-patient and out-patient services and leading-edge technology. Rockdale Medical Center is fully accredited by The Joint Commission, which evaluates hospital patient care for quality, safety and value. Learn more at http://www.rockdalemedicalcenter.org
About Access
For more than 15 years, Access has developed electronic forms management solutions that eliminate the unnecessary expense, risk and inefficiency of paper forms. Our 100 percent paperless technology enables organizations in any industry to capture, manage, sign and share forms data without printing or scanning. Learn more at http://www.accessefm.com and help Access's partner The Last Well bring clean water and the Gospel to Liberia at https://thelastwell.org/give/accessefm2014/
About MEDITECH
MEDITECH has been the leader in the EHR industry since 1969. MEDITECH's applications unify clinical, administrative, and financial information across healthcare organizations--including acute care, long-term care, home health care, and physician practices. Today, more than 2,300 institutions worldwide use MEDITECH's information systems. For additional information, visit http://www.meditech.com