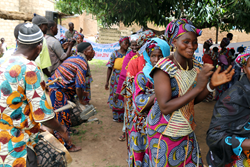 "I have two younger sisters, and I am so happy they will not be cut. FGM will be an old story here." - A girl from Mali
Toronto (PRWEB) February 04, 2015
To mark the UN-declared International Day of Zero Tolerance for FGM (Feb. 6), the child rights and international development agency, Plan Canada, is highlighting the work of local community leaders who are putting an end to this harmful and deadly practice.
In the world of international development, positive social change rarely happens overnight. But community leaders in Mali, Africa are living proof that traditional, harmful and life-threatening attitudes, practices, and behaviours can be changed, and even stopped, with equal amounts of awareness and education, perseverance, and the personal will to stand up to fellow community members.
More than 130 million girls and women in 30 countries have undergone the practice of female genital mutilation (FGM), according to a 2013 Unicef report titled 'FGM: What might the future hold?', and another three million are at risk each year.
The practice involves removing some or all of a girl's external genitals. It is meant to symbolize a girl's entry into womanhood and is supposed to prepare her for marriage, but organizations like Plan view it as an example of gender-based violence and violation of girls' rights.
Plan's projects that focus on FGM involve educating communities, increasing legal protection for girls, and providing medical and psychological support to victims, with the goal to eradicate female circumcision globally by 2030.
Imam El Hadj Zoumana, a community leader in Mali, didn't agree with Plan at first, but that changed when he began to attend a series of presentations about how painful and horrific circumcision can be, especially when healthcare workers conduct the procedure in unhygienic conditions. FGM can lead to childbirth complications, sexual dysfunction, psychological damage and death from infections in later years.
"I couldn't hold back my tears after learning about the full scale of atrocity that our girls and women suffer," Zoumana said.
He knows that educating girls and their communities can help to stop the practice. Determined to act, Imam Zoumana set out to abolish female circumcision in his country. The ritual isn't banned in Mali, and so very few men and women supported his mission.
"Initially, the people in my village didn't want to discuss the issue," he said. "I even organized a debate with the council of elders in the village but to no avail." Critics cited religious reasons for the practice, but Zoumana, a religious leader, explained that there was no evidence for that belief. "Nothing really happened until a few months later when a girl bled to death after the procedure," he explained.
Sawandim Sawo had a similar experience in Guinea-Bissau when she abandoned female circumcision after practicing it for 18 years. It's been illegal there since 2012. "In our tradition, all FGM practitioners have a special status in the community and they are seen as professors or doctors," she explained.
Plan has been working with her and other community leaders to uphold the anti-circumcision law in Guinea-Bissau. "At the beginning, it was not easy to convey the message," said Djenabu Sano, a Plan community worker. "It took me some time to make the community understand the objectives of the project and the danger of female genital mutilation. I think the best technique we used was to involve community leaders and practitioners."
Sawo's and Zoumana's communities rallied around groups of women who wanted to end the practice. Sawo's effort is part of a girls' rights project in 40 communities in Guinea-Bissau. Zoumana succeeded in banning the practice in his village, as did groups in 58 other villages in Mali. He hopes it stays that way.
The Ebola pandemic is also temporarily decreasing FGM. For example, Sierra Leone, where 90 per cent of women have undergone female circumcision, banned the ritual in an effort to slow down the spread of Ebola, which has been devastating the country for the past year.
Recently, high-profile court cases in the U.K. and Egypt landed on front pages around the world. In the U.K., a doctor in London was accused of carrying out the illegal procedure on a woman who had just given birth, the first trial of its kind there.
In Egypt, a judge convicted a doctor of manslaughter after a 13-year-old girl died during the procedure at a hospital. It was the first anti-circumcision case in the country, where an estimated 90 per cent of married women undergo the procedure, even though the practice has been illegal since 2008. Female circumcision is also illegal in 25 other African countries, according to a Unicef report titled 'FGM: A statistical overview and exploration of the dynamics of change'.
The last 25 years have seen a surge in activities to bring an end the harmful practice, according to the 2013 Unicef report.
"It is clear that having strict laws is not enough if they are not robustly enforced," said Adama Coulibaly, Plan's Regional Director for West and Central Africa. "We have succeeded in ending the practice in scores of villages by raising awareness and working with local communities," he added. "Changing mindsets does not cost a lot of money. It requires serious efforts and active engagement."
As one girl in Mali put it, "I have two younger sisters, and I am so happy they will not be cut. FGM will be an old story here."
About Plan and the Because I am a Girl initiative
Founded in 1937, Plan is one of the world's oldest and largest international development agencies, working in partnership with millions of people around the world to end global poverty. Not for profit, independent and inclusive of all faiths and cultures, Plan has only one agenda: to improve the lives of children. Because I am a Girl is Plan's global initiative to end gender inequality, promote girls' rights and lift millions of girls – and everyone around them – out of poverty. Visit plancanada.ca and becauseiamagirl.ca for more information.
-30-