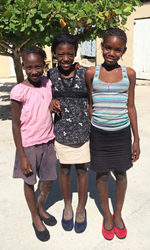 We felt honored at the opportunity to help better the lives of young women
Sparks, NV (PRWEB) February 04, 2015
Arcopédico USA the only US distributor of high-quality, Portuguese-made comfort and travel footwear, plays fairy godmother to thousands of young women in Haiti via a donation made to Soles4Souls.
In November, Arcopédico USA donated over 2,200 pairs of their Cinderella flats to Soles4Souls, a Nashville-based international not-for-profit organization dedicated to fighting poverty through the distribution of shoes and clothes. Over the holidays, these shoes were handed out to villages of young women in Haiti.
"We felt honored at the opportunity to help better the lives of young women," says Arcopédico USA General Manager, Dan Simas. He continues, "Having good shoes is something we take for granted, but these shoes will truly protect their growing feet."
"We chose Arcopédico's Cinderella flats not only because of their superior support and anatomical design, but because they are pretty too," says Arcopédico USA Marketing Manager, Sydney Simas. She says, "Too often those in need, do not get donations that are stylish. We hope these shoes will help these young women feel pretty inside and out."
Shipping company, Mountain Valley Express was so moved by Arcopédico USA's generous donation they decided to jump on board with this worthy cause. Donating all of the shipping costs associated with the transportation of the shoes to Soles4Souls. "When you see other companies doing something good, it makes you feel good too," says Cindy Castodio, Account Executive at Mountain Valley Express. Castodio continues, "It was an honor for Mountain Valley Express to be a part of this worthy cause."
"It's great to see companies join together to help in our world's humanitarian efforts," says Pattie Graben, Director of Corporate Development for Soles4Souls. Graben continues, "This is a showcase of how two company's efforts benefits thousands of impoverished women."
Arcopédico USA specifically chose their Cinderella knit flats as an ideal shoe for young women in warmer climates. Arcopédico USA donated seven color choices in this feminine style.
About Soles4Souls, Inc. – Soles4Souls is a global not-for-profit institution dedicated to fight the devastating impact and perpetuation of poverty. The organization advances its anti-poverty mission by collecting new and used shoes and clothes from individuals, schools, faith-based institutions, civic organization and corporate partners, then distributing those shoes and clothes both via direct donations to people in need and by provisioning qualified micro-enterprise programs designed to create jobs in poor and disadvantaged communities. Based in Nashville, Tennessee, Soles4Souls is committed to the highest standards of operating and governance, and holds a four-star rating with Charity Navigator.
About Arcopédico® USA - Arcopédico USA shoes can be purchased at independent shoe retailers throughout the United States. Simco Imported Shoes, Inc. is the sole U.S. distributor of Arcopédico shoes. A family business, the company was formed in 1983 by Manuel and Virginia Simas after discovering Arcopédico shoes during a trip to Portugal. Arcopédico shoes are hand-made in Portugal. Arcopédico USA is located at 1480 Kleppe Lane, Sparks, NV 89431. For more information, contact the company at (775) 322-0492, or visit http://www.ArcopedicoUSA.com.
For more information or images, editorial media may contact Karen Beaudin at Karen(at)bullpenpress.com.