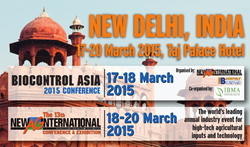 In 5 weeks' time in New Delhi India, New Ag International will host two of the world's leading conferences on high tech agriculture, Biocontrol Asia 2015 and the 13th Annual New Ag International Conference and Exhibition.
(PRWEB) February 04, 2015
Premier Event: March 17-18, 2015: 2BMonthly-New Ag International and IBMA Join Forces to Organize Inaugural Biocontrol Asia Conference. 2BMonthly-New Ag International and IBMA (International Biocontrol Manufacturers Association) are pleased to announce that they will co-organize Biocontrol Asia 2015, a conference entirely dedicated to Biological Plant Protection. The inaugural conference will take place at the Taj Palace Hotel in New Delhi (India) during 17-18 March 2015, immediately followed by the 13th New Ag International Conference & Exhibition during 18-20 March. Biocontrol Asia 2015 will be a one and a half day meeting, including presentations of selected papers on Biocontrol. Biocontrol papers will be presented exclusively during Biocontrol Asia 2015, while the New Ag International Conference papers will focus on covering other important topics such as irrigation, fertigation and biostimulants in the Indian and broader Asian context.
The inaugural Biocontrol Asia conference, co-organized with IBMA & 2BMonthly and sponsored by Bayer CropScience, Koppert Biological Systems and T-Stanes, will feature 15 speakers from 8 countries (Brazil, India, Netherlands, Singapore, Switzerland, Thailand, UK, USA), including the leading figures of the World and Indian Biocontrol Industry and the Indian Government Officers in charge of Regulatory.
NEW! Confirmed Keynote Speakers Announced:
Government of India, Speaker TBC-Dr. Sarita Bhalla is a Medical Toxicologist from the Directorate of Plant Protection, Quarantine, and Storage in India. (India)
Paper on regulations for Biologicals

Mrs. Lakshmi Narayanan. Wholetime Director, T. Stanes and Company Ltd. (India)
The Indian Biologicals Industry: Opportunities & Challenges

Dr. Willem Ravensberg, President of IBMA (Netherlands)
The role of IBMA in biocontrol policy, regulatory affairs and the marketplace

Mr. Gustavo Herrmann, Commercial Director, Koppert Biological Systems (Brazil)
Brazilian biocontrol successes and their potential application in Asia

Dr. Thomas Jaekel, CIM Expert on Biological Plant Protection (Thailand)
The Asian biocontrol market: current situation and perspectives on implementation of sustainable agriculture

Mr. Ashish Malik, VP Global Marketing, Biologics, Bayer (USA)
Biologicals – Enhancing integrated crop solutions

Mr. Ketan Mehta, PMFAI (India)
Challenges and opportunities for the Indian Agrochemical industry to increasingly involve itself in Biologicals
Additional Speakers:

Dr. S. Marimuthu, T-Stanes
Dr. Pam Marrone, Marrone Bio
Dr. S. Balaji, EID Parry
Dr. Felix Wackers, Biobest
Dr. Kim Watson, Arysta
Mr. M. Ansari, Bionema
Mr. Srinath Bala, Bayer
Mr. Marcus Meadows-Smith, BioConsortia
Contact:
New Ag International Sarl
Email: newag(at)newaginternational(dot)info
Tel France: +33 (0)38 930 5120
Tel UK: +44 (0)20 8481 3740