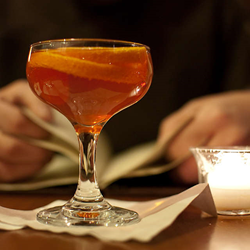 I love the concept of Tavern Law and their beverages .Their tiny kitchen right next to the bar is pushing out little small plates like the tempting mac and with duck fat crumbs on top - Blogger Pechluck's Food Adventures
Seattle, WA (PRWEB) February 04, 2015
Tired of all the "Romantic Restaurant Valentine's" lists that showcase the same boring prefix menus, red roses, and candle light? Let Urbanspoon help with a list of Seattle's trendy, fun, and splurge-worthy food experiences sure to knock the socks off any Valentine date. Restaurant discovery app Urbanspoon released its list of unique dining adventures for Valentine's Day throughout Seattle. The list is, based on data culled from Urbanspoon's Popular Dish feature, user data, reviews, and expert commentary.
Let's Start with Drinks
Tavern Law. What users are saying: "I love the concept of Tavern Law and their beverages (you'll just have to trust me on this one because they do not have anything useful on their website). Their tiny kitchen right next to the bar is pushing out little small plates like the tempting mac and cheese with duck fat crumbs on top." - Blogger Pechluck's Food Adventures
Other Top Rated Favorites:
List
Zig Zag
Splurge
Art of the Table. What users are saying: "I loved everything!!! First of all, we were greeted at the door by chef Dustin who took us to our table, explained the menu for the evening, and then left us in the capable hands of the single staff - the room is small and intimate-- the perfect spot for a celebration. Candles provide most of the light and it is warm and lovely." - Urbanspoon Prime MJ
Other Top Rated Favorites:
Cafe Juanita
Cascina Spinasse.
AQUA by El Gaucho
Wait my date is... (Veg, Vegan, Gluten Free)
Sutra. What users are saying: "I always fantasized about a restaurant (and I am sure most of you too) that is a melting pot of all cuisines. One that has creative menus and artistic presentation (hell, I even have a secret blog with my own fancy menus). One that truly celebrates food." - Urbanspoon diner Vindu
Other Top Rated Favorites:
Mamnoon
Shanik
Moshi Moshi Sushi
Go Straight to Dessert
D'ambrosio Gelato. What users are saying: "What to order --- honestly, this is the best gelato I have ever tried! We tried two flavors: dark chocolate (63% cocoa) and pistachio (imported from Sicily). They made with organic milk and organic cream. Also, they are served in biodegradable cups." - Blogger Foodie and Traveler by Yana Todorova
Other Top Rated Favorites:
Hello Robin
Hot Cakes Molten Chocolate Cakery
Click here for a complete list of Valentine's Day restaurant and dish recommendations.
###
About Urbanspoon
Urbanspoon is an online restaurant search and discovery service providing information on home delivery, dining-out, cafés and nightlife in cities of India and 21 other countries.