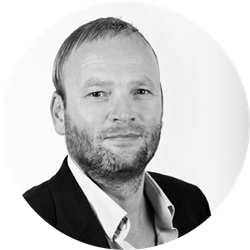 It is a great feeling to see a company like Xstream evolve the way it has. I am pleased that we have been able to attract Simon to the position as CEO for Xstream
Copenhagen, Denmark (PRWEB) February 05, 2015
Xstream, the premium provider of OTT and TV Everywhere services and vendor of the award winning video management system, Xstream MediaMaker™ today announced that the company's founder and CEO, Frank Thorup, is stepping down as CEO after 15 years. Simon Høgsbro has been appointed as new CEO effective from March 16th. Thorup will transition from CEO to Director of Xstream Americas.
After many successful years, Frank Thorup, who founded Xstream in 1999 and led Xstream for 15 years, is stepping down as CEO of the company. Thorup will continue as Director Xstream Americas where he will continue to build and strengthen the company's brand and presence in the North and South American markets.
"It is a great feeling to see a company like Xstream evolve the way it has. I am pleased that we have been able to attract Simon to the position as CEO for Xstream. Simon has a long and impressive career in various tier 1 companies behind him and recently had remarkable success in his responsibility for the launch of Spark New Zealand's OTT SVOD service, Lightbox. Now with Simon joining as the new CEO of Xstream, I'm thrilled to get the opportunity to take my family and move to the USA and contribute to further growth and expansion of our operations as Director for Xstream Americas. I'm looking forward to creating an even stronger footprint in the American market as the region is a key focus for Xstream, a market that we believe we can add significant value to". Said Frank Thorup, founder and CEO at Xstream.
Xstream is planning to further expand its activities in a number of locations worldwide, leveraging its award winning cloud based video management system, Xstream MediaMaker™, to take advantage of more favorable market conditions and to meet the high demand for their services globally. Høgbro's international exposure, market experience and insight made him a natural choice for Xstream. Prior to joining Xstream, Simon led Lightbox's incubation from its strategy and business planning phase to launch. Lightbox marks Spark New Zealand's entry into the OTT SVOD space, set up as a standalone business selling to all NZ ISPs customers. Simon was responsible for content, product, platform, operations, branding and marketing, as well as recruiting the team to pull it all off. Simon is widely experienced in business strategy and disruptive product development across Telco and media. He previously led major product introductions including Spark New Zealand's first UFB and VDSL broadband products and the first IPTV triple play products for TDC, the leading Telco and cable TV provider in Denmark. Simon is an experienced leader with strong results from various senior positions across product management, business development and strategy.
"I am honored to have been asked to take this role, excited about the possibilities that lie in our future and delighted to lead the company through its next stage of evolution." said Simon Høgsbro, new CEO at Xstream. "As the OTT and TV Everywhere market keeps growing, driven by consumers' demands for content wherever, however and on any device, Xstream, with it's deep experience and proven technology, is well- positioned to address the needs of Telcos, cable operators, studios and networks. I'm very much looking forward to working with the experienced team at Xstream as we embark on this exciting journey in new and existing markets globally."
Xstream employs 120 people, and its software and services are used by Telcos, cable operators and large media companies, to create, manage, monetize and deliver simply smarter OTT and TV Everywhere solutions across all devices. Customers include Fuhu (nabitablets.com) Spark New Zealand (Lightbox) Canal Digital, Altibox, SBS Discovery media, Telenor and others.