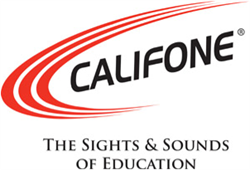 Califone strives to deliver products that create a positive experience for teachers using audio equipment in the classroom.
San Fernando, Calif. (PRWEB) February 04, 2015
Califone International LLC, the premier manufacturer of quality audio technology and sound presentation solutions for schools, industry, institutions and professional use, unveils three new earbud designs, a wireless keyboard and personal voice amplifier to fit the needs of any classroom at the 2015 TCEA Convention & Exposition. The E1, E3T and E3USB earbuds, PA283 VoiceSaver and KB3 wireless keyboard contain unique components to support preparation and testing requirements in any state.
The E3T and E3USB are earbud headsets with microphones on the cords. Supporting speech intelligibility and the development of speaking and listening skills defined in the English language arts Common Core section, the headsets feature inline volume control and single button operation with iOS, Windows and Android devices. Specifically, the E3T includes a single 3.5 mm "T-style plug" to connect with smartphones and tablets, while the E3USB has a USB plug to meet PARCC & Smarter Balanced recommendations. The E3T and E3USB models each include an extra pair of smaller earpads for younger students. Along with the E3 model announced earlier, the E3 series are the first models to offer a one-year warranty for use in schools. Designed for single use, the E1 earbud is the most affordable option of the three new offerings.
"Califone strives to deliver products that create a positive experience for teachers using audio equipment in the classroom," said Tim Ridgway, vice president for Califone. "Since the upcoming spring assessments require headphones and headsets, it's more important than ever to have product choices that support every classroom preparing for testing."
The PA283 VoiceSaver can be heard by up to 20 people, and is equipped with a Bluetooth mic for cord-free mobility. The KB3 wireless oversized keyboard offers Bluetooth connectivity and features fewer keys with a footprint 90 percent larger than standard keyboards, making it ideal for beginning keyboarders. The plug-and-play keyboard readily connects to tablets, replacing the on-screen keyboard and meeting specifications for all major assessments.
To learn more about these and other new technology offerings for Common Core and TEKS testing from Califone, visit booth #422 at TCEA.
About Califone
Califone was founded in 1947 and continues to be a leader in the design, development and manufacturing of audiovisual and supplemental curriculum products for use in education. The company's products enable educators to incorporate rich audiovisual resources into lessons that help students build speaking and listening skills, critical to the English Language Arts portion of the Common Core State Standards. Califone offers a complete line of audio solutions, wireless systems and multimedia products for small, medium and large presentation needs, and serves millions of educators and students in the PreK through higher education school environments.