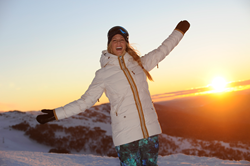 Banff, Alberta, Canada (PRWEB) February 04, 2015
CMH Heli-Skiing announced today that Torah Bright, Australia's most decorated female snowboarder, will join the world's largest and longest serving Heli-Ski operator for an intimate week at CMH Heli-Skiing.
The two-time Olympic medalist from Cooma, Australia, who captured Olympic gold and silver at the 2010 Vancouver and 2014 Sochi Olympic Winter games respectively, will join guests for a week of skiing and riding on heli-accessed powder at CMH Galena, April 4-11th.
The newly minted ambassador rounds out the impressive roster of world class athletes who will join CMH Heli-Skiing for an intimate ski and snowboard experience at three CMH lodges this season. CMH Heli-Skiing ambassadors currently include ski legend Chris Davenport and Olympic gold medalist Julia Mancuso, who will be hosting their own trips in March.
"CMH Heli-Skiing attracts some of the world's biggest names in skiing and snowboarding and we are delighted to have such a decorated and inspiring athlete join us this season," said Joe Flannery, President of CMH Heli-Skiing and Summer Adventures. "With Chris Davenport, one of the world's most prolific big mountain skiers joining us this year along with the incredibly talented multi-podium ski race medalist Julia Mancuso, we are pleased to round out this powerhouse trio with such an immense snowboarding talent."
CMH Heli-Skiing's 2015 Ambassador trips include:
Chris Davenport:
CMH Gothics, March 20 – 25
CMH Revelstoke, March 26 – 30
The former alpine racer and two-time extreme skiing World Champion, Davenport has been called one of North America's top 25 skiers by Skiing Magazine. He is considered one of the world's most accomplished big mountain skiers today and in 2007 became the first person to ski all 54 of Colorado's 14,000-foot peaks in less than a year.
Julia Mancuso:
CMH Gothics, March 25 – 29
Julia Mancuso is a World Cup alpine racer and Olympic medalist from Squaw Valley, California. Mancuso has taken home seven World Cup victories, five World Championship medals, and has received multiple podium finishes including gold in Giant Slalom in the 2006 Winter Olympics and silver in both Downhill and Combined in 2010.
Torah Bright:
CMH Galena, April 4 – 11
This Australian-born Olympian has garnered countless achievements as one of snowboarding's elite, taking home the gold medal at the 2010 Vancouver Olympic Winter Games and silver at Sochi in 2014. Her list of accolades include the 2007 TTR Women's World Tour Champion, gold at the 2007 and 2009 Winter X Games, and was named Female Action Sport Athlete of the Year at the 2010 ESPY Awards.
For more information about CMH Ambassador Trips visit http://ow.ly/I7rEp
ABOUT CMH HELI-SKIING & SUMMER ADVENTURES:
Celebrating 50 years of heli-adventures, CMH Heli-Skiing & Summer Adventures is the world's first and largest Heli-Skiing and Heli-Hiking operator. From their head office in Banff, Alberta, CMH operates exceptional mountain experiences based from 11 lodges located in the Bugaboo, Purcell, Selkirk, Monashee and Cariboo ranges of British Columbia, Canada. Heli-Skiing takes place each year from December through April, and CMH Summer Adventures take place from July to mid-September.
For more information visit:
Web: http://www.cmhski.com
Twitter: @CMH_Heli
Facebook: facebook.com/cmhski
Instagram: @CMH_Heli
Follow the conversation at #cmhheli
Media Contact:
Tanya Otis, PR Manager
Tel: 403 762 7110
totis(at)cmhinc(dot)com
http://www.cmhinc.com