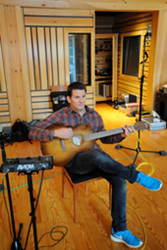 Guster felt badly about the negative impact we were having on the environment and a lot of other bands we were touring with felt the same way.
Bend, OR (PRWEB) February 04, 2015
Guster released their new album Evermotion on January 13, its highest charting album on the Billboard 200 in the band's 23 year career, and is currently on a North American and European tour. As part of REVERB's ongoing environmental efforts in partnership with the band, each tour stop will have a fan engagement Eco Village. Bedell Guitars is proud to be a sponsor and help raise awareness for the Lacey Act. By signing a postcard pledging your support to the Lacey Act and/or taking a photo in the photobooth and posting to social media using #StopIllegalLogging, concert goers will have the opportunity to win one of the Bedell Earthsong Orchestra guitars that Adam Gardner and the band will be playing on tour. "The Bedell Earthsong is a beautiful guitar built of sustainably harvested American woods. From the salvaged Sitka spruce top to the individually cut Western bigleaf maple trees we've been able to created an amazing sounding guitar that can be built for generations," said Sami Mulhern, Artist and External Relations for Bedell Guitars.
REVERB has had a decade-long history of creating awareness and action around a variety of environmental concerns but the legal harvesting of woods is one that is particularly close to REVERB co-founder and guitarist for Guster, Adam Gardner. REVERB's No More Blood Wood Campaign is bringing together artists to speak out in support of the Lacey Act, including Gardner's testimony to Congress to keep the law strong. They recently produced a video in partnership with the Environmental Investigation Agency (EIA) where artists like Jason Mraz, Michael Franti, Maroon 5, Linkin Park and more speak out on the legality of wood.
Adam took some time out of his busy tour schedule to talk with Bedell Guitars. See the excerpt below. The full interview can be viewed here.
Bedell: First of all – congrats on the release of Evermotion. You launched it by a number of surprise "pop-up" shows in the streets of Boston on what the Mayor deemed "Guster Day." You recorded Evermotion in Oregon last year – how does it feel to have it out there now?
Adam Gardner: Thanks! We've been excited to have people finally hear this album. We finished way ahead of schedule so we weren't lined up with a label or release plan…we finished recording it almost a year ago. Having the new songs in the set have added a lot more colors to the palette live and new songs help a lot toward keeping the live thing fresh and fun for us.
Bedell: Is there a stand out song for you?
AG: Right now I'm really enjoying playing "Long Night". We've been opening the show with that, which is a little unusual, as it's a fairly mellow song, but it sucks people in and then gets larger and larger as the song progresses.
Bedell: You started the non-profit organization, REVERB, with your wife. What inspired starting REVERB?
AG: It was born out of me complaining to my wife (who has been working in the environmental realm as long as I've been in music) about what a mess the touring music world is with all of the plastic trash, fuel guzzling busses and trucks, etc. Guster felt badly about the negative impact we were having on the environment and a lot of the bands we were touring with felt the same way. In 2004, my wife and I started REVERB to make it easier for bands to tour more sustainably and engage their fans to take action.
Want to help? Volunteers are needed at each stop to help educate concert goers on why knowing where your wood comes from is important. Spots are limited but those selected will also receive a ticket to the show. For more info click here.
# # #
Bedell Guitars:
Launched in 1964 and after a four-decade hiatus, Bedell Guitars re-launched in 2009 and is located in Bend, Oregon sourcing rare and special tonewoods, designing instruments and working with exceptionally talented craftspeople. Driven by passion, the company prides itself in its respect and reverence for the connection between the woods of its forests and music to create unique and quality guitars. For more information about Bedell Guitars: visit, bedellguitars.com.
REVERB:
Deeply rooted within the music and environmental communities, REVERB is a 501 (c) (3) environmental organization dedicated to educating and engaging musicians and their fans to take action toward a more sustainable future. Founded in 2004 by environmentalist Lauren Sullivan and her musician husband, Guster guitarist/vocalist Adam Gardner, REVERB has greened more than 150 major tours including Dave Matthews Band, Jack Johnson, Maroon 5, fun., Linkin Park and Jason Mraz. http://www.reverb.org