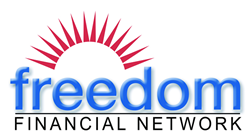 Valentine's Day has become an expensive holiday for some, but it isn't necessary to go into debt to prove you care.
San Mateo, Calif. (PRWEB) February 04, 2015
Valentine's Day can be a pricy holiday, especially coming on the heels of the winter holidays, but love doesn't have to be costly, says Kevin Gallegos, vice president of Phoenix operations for Freedom Financial Network (FFN).
In 2014, U.S. consumers spent a total of $17.3 billion on Valentine's Day festivities, according to the National Retail Federation. That is an average of about $134 per person.
"Valentine's Day has become an expensive holiday for some, but it isn't necessary to go into debt to prove you care about the people closest to you," Gallegos said. "Often, a heartfelt expression of love or friendship means the most – especially in our world where people are rushed, and taking time for someone is a genuine gift."
With that in mind, here are nine tips for a Valentine's Day that won't break the bank, or any hearts – whether you're celebrating with a longtime love, a new one or a group of friends.
1. Cook at home. Making Valentine's Day restaurant reservations is akin to a competitive sport these days, and the meals out are expensive. A San Francisco survey last year found that the Valentine's menu at high-end restaurants cost an average of 32 percent more than on other nights – a difference of $38 per person. For the cost of the difference, a couple can dine on steak or crab legs at home, and even add a nice bottle of wine. Those dining with friends could host a potluck, where each person's contribution will reduce costs even more.
2. Go out early, late or off the beaten path. Those determined to dine out might take advantage of non-prime-time specials, or go into a bar for a drink and an appetizer, then do take-out for dinner. Night owls might grab a late seat for dessert and coffee. Or try an inexpensive but fun restaurant (think new-to-you ethnic cuisines, perhaps).
3. Celebrate the night before or the next day. This year, Valentine's Day is on a Saturday. Friday-night festivities avoid holiday crowds and still leave the weekend for sweethearts to share. Or agree to splurge on Sunday – when those special holiday chocolate truffles might be marked down by half.
4. Re-enact a first date. Many couples met when they were young and had little (or less) money. Walk through the park, play a board game, catch a bargain movie, or text each other sweet nothings – but this time, cuddled on the couch together. Or seek out a free concert at a university, church, or rock or jazz club.
5. Fall in love. This month, the Internet has been abuzz with a list of 36 questions that researchers found can help people to build connections quickly. Those who are ready might spend Saturday gazing into each other's eyes and answering the questions to fall in love frugally.
6. People watch. Instead of focusing on a fancy and pressure-laden Valentine's date, visit a park, library, bookstore, mall or coffee shop for walking, talking and people watching. Study how others celebrate (or don't) to be reminded about why the two of you are together.
7. Join a movement. Individuals who are ready to be generous on Valentine's Day and get crafty about it can join a Valentine's movement called "Army of Lovers." Participants make homemade Valentine's cards and hand them out to friends, co-workers, neighbors, fellow commuters or strangers, simply to make the day better.
8. Expand horizons. Move past the expected Valentine's Day dates and take in a museum, tour of art galleries (usually free, and open on Saturdays), or historical site. Or take a road trip. The day will be far more memorable than a round of chocolates and stuffed bears.
9. Plan a future together. A survey by the credit service Experian found that 73 percent of women and 60 percent of men found their partner more attractive when she or he was willing to talk about money and credit. "A money date on Valentine's Day is risky if you tend to argue about money, but planning how to build a more secure future can really bring couples together," Gallegos said.
"In many ways, romance is about the combination of excitement and security," Gallegos said. "Fortunately, it is definitely possible to have a stimulating Valentine's Day, without putting your financial security in jeopardy."
Freedom Financial Network (http://www.freedomfinancialnetwork.com)
Freedom Financial Network, LLC (FFN), provides comprehensive consumer credit advocacy services. Through the FFN family of companies – Freedom Debt Relief, Freedom Tax Relief, ConsolidationPlus, FreedomPlus and Bills.com – FFN works as an independent advocate to provide comprehensive financial solutions, including debt consolidation, debt resolution, debt settlement and tax resolution services for consumers struggling with debt. The company, which has resolved more than $3.5 billion in debt and assisted more than 300,000 clients since 2002, is an accredited member of the American Fair Credit Council, and a platinum member of the International Association of Professional Debt Arbitrators.
Based in San Mateo, California, FFN also operates an office in Tempe, Arizona. The company, with 750 employees, was voted one of the best places to work in the San Francisco Bay area in 2008, 2009, 2012, 2013 and 2014, in the Phoenix area in 2008, 2009, 2010, 2012, 2013 and 2014. FFN's founders are recipients of the Northern California Ernst & Young Entrepreneur of the Year Award.
(end)