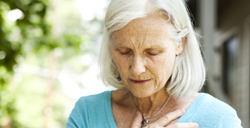 It's going to give people hope. And give them a life. You get to a point with a body where you push and push and run out of energy. That's not really life to me. I think stem cell therapy can give back life. Patsy B.
Freeport, Grand Bahama (PRWEB) February 04, 2015
In just a few short months since Okyanos opened its doors, remarkable results are becoming a daily reality. In light of these mounting successes, Okyanos, the leader in cell therapy, has augmented its adult stem cell therapy for severe heart disease and expanded their offerings to include treatments for patients with other chronic unmet needs. Now, patients like Patsy and Dylan are experiencing the tangible benefits that Okyanos cell therapy provides.
Patsy, 72 years old, lived a normal life until 2012 when a diagnosis of congestive heart failure (CHF) put a halt to her active lifestyle. Patsy's health quickly deteriorated. Despite open heart surgery, a pacemaker and medications, all were insufficient to arrest her physical decline. Faced with a heart transplant as her next option and fearful of the idea, Patsy began searching for another alternative.
"I was looking at going to Mexico, and my cardiologist was talking to me about being a part of a clinical trial where they inject two different kinds of drugs into the heart, but I was hesitant about that idea and worried I would get the placebo. A friend knew I had a heart problem, and she recommended Okyanos."
Patsy's arrival at Okyanos quickly allayed any apprehension as she said, "I couldn't ask to be treated any better than if they were my own sisters or brothers. It was truly amazing. You just don't get that kind of care in regular hospitals."
After just a few short months since her mid-October (2014) treatment with Okyanos cell therapy, Patsy is noticing improvements. "I'm doing better. I can already tell the difference. I'm getting up the stairs more easily. I'm doing the laundry again. I have more energy, and when you have more energy and you feel better, your point of view on life is better—it really makes a big difference."
Dylan is another success. At 16, Dylan had dreamt of a career playing tennis but began experiencing extreme pain with his hips locking up, causing him to fall to the ground. He was diagnosed with a rare condition that causes abnormal growth of tissue lining the joints that can later break off and damage cartilage. After 2 surgeries to clean out his hips, constant pain and an inability to walk without a limp, run or bend over, the condition worsened. After speaking with doctors, it was clear that continuation of regular surgeries would further deteriorate Dylan's hips. Determined to see her son walk normally, Dylan's mother discovered Okyanos and both decided to move forward with cell therapy.
Dylan underwent cell therapy wherein stem cells were separated from his own fat tissue for direct injections into the hip as well as delivery by IV to address underlying causes of ischemia, inflammation and abnormal immune response. Ten days later, Dylan was pain-free and able to walk normally, run and bend over.
"I'm pinching myself. It's amazing. No, it's miraculous!" says Elena about her son's recovery. "If Dylan had not had the cell therapy, we would have kept doing other treatments and crossed our fingers. At 20 years old, his future would have been hip replacement surgery and a lifetime of problems walking, painful movement and an inability to bend down."
Stem cell therapy is a relatively simple and minimally-invasive same-day procedure—a stark contrast from open heart surgery or hip surgery—yet offers patients the hope of a more normal life. Patients like Patsy concur, "It's going to give people hope. And give them a life. You get to a point with a body where you push and push and run out of energy. That's not really life to me. I think stem cell therapy can give back life."
Okyanos follows the treatment guidelines laid out in clinical trials such as PRECISE and others which have demonstrated positive results from adult stem cell therapy. Okyanos cell therapy is performed in their newly constructed surgery center built to U.S. surgical standards and which also includes a state-of-the-art Phillips cath lab.
Just 50 miles from US shore, the Bahamas maintain a rigorous regulatory framework through the National Stem Cell Ethics Committee, Scientific Committee and Compliance Committee with strict licensing requirements.
Patients with severe heart disease including coronary artery disease (CAD) and congestive heart failure (CHF) as well as patients with autoimmune diseases, tissue ischemia, neurological and orthopedic conditions, can contact Okyanos to request a free consultation at http://www.Okyanos.com or by calling 1-855-659-2667.
About Okyanos: (Oh – key – AH – nos)
Based in Freeport, Grand Bahama, Okyanos brings a new standard of care and a better quality of life to patients with coronary artery disease, tissue ischemia, autoimmune diseases, and other chronic neurological and orthopedic conditions. Okyanos Cell Therapy utilizes a unique blend of stem and regenerative cells derived from patients' own adipose (fat) tissue which helps improve blood flow, moderate destructive immune response and prevent further cell death. Okyanos is fully licensed under the Bahamas Stem Cell Therapy and Research Act and adheres to U.S. surgical center standards. The literary name Okyanos, the Greek god of the river Okyanos, symbolizes restoration of blood flow.
# # #