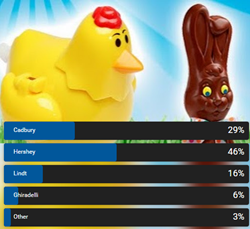 Los Angeles, CA (PRWEB) February 04, 2015
There are a lot of big brands vying for a spot in the proverbial Easter basket this spring, but one recent poll suggests Hershey will be in more baskets than any other brand – a prediction that could mean trouble for competitors like Ghiradelli, Lindt, and Cadbury.
The poll was conducted over the last few weeks via social media by online candy retailer, CandyWarehouse.com. Customers were asked who manufactured their favorite Easter chocolates, and given five options to choose from, including the four brands listed above and a fifth "other" category to serve as a catchall for any smaller brands not listed. Check it out here!
It came as no surprise that the top pick was the nation's oldest and largest manufacturer of chocolate; however, Hershey will still face keen competition in the area of new Easter products, since many of its competitors, including Cadbury, have released imaginative renditions of their own classic products for the coming season.
Hershey has traditionally relied on tried and true Easter candy favorites like Vanilla Creme Kisses and Whoppers Robin Eggs to carry their sales through the season. Cadbury, on the other hand, offers four varieties of its celebrated Creme Egg, which returns this year to the accolades of fans around the globe. The product has proven to be the struggling confectioner's golden goose, with annual sells in the UK alone exceeding 200 million, eclipsing the sale of any other confection from New Year's to Easter.
Customers looking for the full collection of Hershey or Cadbury Easter products won't find it on the shelves of the local supermarket. Retailers like Walmart and Target can only stock the seasonal sweets for a small window of time, and with shelf space limited by year-round goods, they only offer a few of the biggest sellers, which aren't always the ones customers are looking for, especially when they want to brighten their baskets with something new or unexpected.
This search for greater variety has driven shoppers online, where highly specialized retailers like CandyWarehouse.com stock hundreds of Easter chocolates, gummies, hard candies, jelly beans, and marshmallows, including all of the traditional favorites, like Hershey and Cadbury, as well as the quirky and inventive newcomers those customers won't find in stores.
While the futures of Cadbury and Hershey may be uncertain, customers looking for the widest selection of Easter candy are finding more of what they're looking for by shopping online.