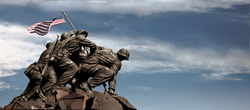 ATLANTA, GEORGIA (PRWEB) February 03, 2015
After completing a government-mandated RFP, the United States Marine Corps renewed its recruitment-advertising contract with longtime partner J. Walter Thompson, continuing their 67-year relationship.
Since its last review in 2007, J. Walter Thompson Atlanta and its partners, Mindshare, UniWorld Group and SocialSphere, have helped the Marine Corps achieve recruitment goals through award-winning brand strategy, digital expansion and integrated campaign platforms.
J. Walter Thompson supports all touchpoints of the Marine Corps Recruiting Command's advertising program, from creating multichannel brand campaigns to providing sales support to more than 3,000 Marine Recruiters nationwide through an innovative lead generation program. The Marines have the largest Facebook following of any government page, with more than 4 million followers, and boast an award-winning YouTube channel that serves content to users through a personalized Pandora-like algorithm.
"J. Walter Thompson is honored to support the Marine Corps in its ongoing effort to make Marines," said Gustavo Martinez, Chief Executive Officer, J. Walter Thompson Company. "Our shared values of courage and commitment are more vital than ever, and we look forward to the continued success of this essential institution."
"We have a clear understanding of the demographic's evolution and how to translate Marine Corps values and ethos to new generations of Americans," said Perry Fair, President and Chief Creative Officer of J. Walter Thompson Atlanta. "The Marine Corps continues to embrace and share our pioneering spirit, and we work tirelessly to earn their business every day."
From establishing the Marine Corps as the most elite branch of the Armed Forces with the tagline "The Few, The Proud," to showcasing how today's Marines fight battles across a broader spectrum of threats with the "Toward the Sounds of Chaos" campaign, J. Walter Thompson Atlanta will evolve the brand further in 2015 with a new, fully integrated campaign.
"Our work is fulfilling both personally and professionally, and we're privileged to work with people we respect so deeply," added Sean McNeeley, Group Account Director, J. Walter Thompson Atlanta. "Together with the Marines and our agency partners, we're proud to have created a world-class marketing program that tells a success story almost seven decades long."
ABOUT J. WALTER THOMPSON WORLDWIDE
J. Walter Thompson Worldwide, the world's best-known marketing communications brand, has been making pioneering solutions that build enduring brands and business for more than 150 years. Headquartered in New York, J. Walter Thompson is a true global network with more than 200 offices in over 90 countries, employing nearly 10,000 marketing professionals. The agency consistently ranks among the top networks in the world and continues a dominant presence in the industry by staying on the leading edge—from hiring the industry's first female copywriter to developing award-winning branded content today. For more information, please visit http://www.jwt.com and follow us @JWT_Worldwide.
# # #