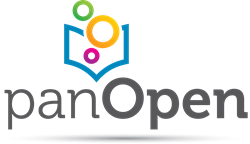 Never before has it been possible to offer faculty and institutions a comprehensive OER solution, one that addresses all of the critical needs for institutional use of open content
New York, NY (PRWEB) February 04, 2015
panOpen, the platform that allows educational institutions to easily adopt Open Educational Resources (OER), announced today that it is partnering with UK-based CogBooks to offer fully adaptive courses founded on open educational content.
The partnership is the first of its kind. "Never before has it been possible to offer faculty and institutions a comprehensive OER solution, one that addresses all of the critical needs for institutional use of open content, with the adaptive capability that can personalize and improve student success," noted panOpen founder and CEO, Brian Jacobs.
Beginning this summer, faculty will be able to choose OER textbooks in several high demand courses as either traditional, linear materials or adaptive through use of the CogBooks personalized learning platform. Adaptive personalized learning is well suited not only for online self-paced courses but also for traditional classroom learning, especially at colleges that have high levels of commuter students who often struggle to make it to class.
"Used within both traditional and online class settings, the CogBooks adaptive platform allows students to move at their own pace regarding particular learning objectives, and yet keeps them aligned as a class from start to finish. This allows faculty to work with students to practice higher order skills in application, synthesis and evaluation," added Steve Ernst, CogBooks' CLO and General Manager - Americas. "The partnership with panOpen means that institutions will have the benefit of low cost, flexible, and DRM-free content to personalize each student's engagement with the courseware. Improving access through lowering costs while also personalizing the learning experience is a powerful combination to drive achievement of learning outcomes."
About CogBooks
CogBooks Ltd., is an adaptive learning technology company, applying research-led methods to web-based instruction since 2005. In 2014, the company won a Bill & Melinda Gates Foundation Next Generation Courseware Challenge grant to support its work in higher education. The CogBooks adaptive learning platform intelligently personalizes learning for each individual, leading to improved learning quality and reduced study times. CogBooks is a mature cloud-based technology that can be used as a stand-alone delivery tool or plugged into existing Learning Management Systems, Virtual Learning Environments or intranets. Its systematic, data-driven approach is an invaluable tool for forward thinking educators and instructional designers. For more information regarding CogBooks, please visit http://www.cogbooks.com or follow us on Twitter at @cogbooks.
About panOpen
Founded in 2013 by serial ed tech entrepreneur Dr. Brian Jacobs, panOpen provides the technology and financial services that higher educational institutions require to adopt open educational resources (OER). Its platform offers institutionally-specific OER content libraries, advanced customization and remixing tools, student analytics, universal access to OER, and a financial compensation system to support OER sustainability. It aligns the economic and operational interests of stakeholders (faculty, administrators, and students), and creates a foundation for increasing student academic success while dramatically reducing costs. For ongoing news, visit http://www.panOpen.com or follow us on Twitter at @panopen.