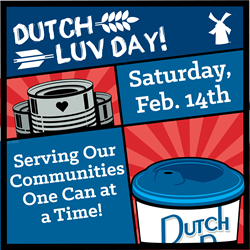 Dutch Luv Day allows us to support our families, friends and neighbors in need of quality food.
GRANTS PASS, Ore. (PRWEB) February 05, 2015
This Valentine's Day, 240 Dutch Bros. Coffee locations will be collecting nonperishable food for community food banks.
Each Valentine's Day, Dutch Bros. Coffee participates in Dutch Luv Day. Franchisees come along side their community and band together to collect food for their local food banks. All Dutch Bros. locations will collect donated nonperishable food items. Last year, the company donated 233,401 pounds of food, and hopes to donate even more this year.
"Hunger is a serious problem," says Sam Engel, manager of the Josephine County Food Bank. "Hunger means not knowing if you can pay for medicine and food this month. Hunger means deciding which adult skips dinner tonight so that all the kids can eat. With the community's help and through food drives like Dutch Luv Day, we can make sure that the people who most need our support get not only adequate food, but the nutritious food that they need to be healthy."
"Dutch Bros. serves as a platform to give back to the community," said Dutch Bros. Coffee Co-Founder Travis Boersma. "We're blessed with an opportunity to band together with nearby communities and spread the "Luv" by providing canned goods for local food banks."
"The generosity of Dutch Bros and their patrons really shines on this day and the benefit to our hungry neighbors in need is tremendous," Brad Bassi, Food Resource Developer, FOOD For Lane County. "February can be a difficult time of the year for many families and Dutch Luv is a key in keeping up stores of nonperishable food."
All Dutch Bros. locations are locally owned and operated allowing franchisees each year to choose the local organizations important to them, which can benefit from the canned goods collected.
To see a complete list of the organizations that will be supported this year, visit http://www.dutchbros.com/news/dutch-luv-one-can-at-a-time.
###
About Dutch Bros. Coffee
Dutch Bros. Coffee is the country's largest privately held, drive-through coffee company, with over 240 locations and over 3,000 employees in seven states.
Serving specialty coffee drinks, smoothies, freezes, teas and a private-label Dutch Bros. Blue Rebel™ energy drink, Dutch Bros. is known for a special focus on its communities and customers.
Dutch Bros. Coffee was ranked by J.D. Power and Associates as highest in customer satisfaction compared to other coffee companies in its 2012 and 2013 Specialty Coffee Retailer Satisfaction Reports.
The company and its local owner-operators donate over $1 million annually in an effort to achieve their goal of investing in their local communities.
Dutch Bros. Coffee is headquartered in Grants Pass, Ore., and was founded in 1992 by dairy farmer brothers of Dutch descent. To learn more about Dutch Bros., visit http://www.dutchbros.com.