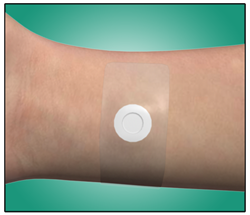 "We are proud to offer the Pressure Right Strips to the consumer market and give individuals the opportunity to experience long-lasting effectiveness against nausea related symptoms." Joseph DiLustro, Pressure Point Founder/CEO
Tinton Falls, NJ (PRWEB) February 09, 2015
Pressure Point Inc., announced today that its 100% medical grade Pressure Right pressure-sensitive, disposable wrist strips for nausea relief are now FDA-cleared and available for OTC (Over The Counter) consumer use without a prescription.
Since its initial FDA clearance in 2011, Pressure Right strips have been marketed to hospitals as a prescription-based product providing drug free, nausea/vomiting preventive outcomes in surgery patients.
With the new FDA clearances, Pressure Right Strips can now also be used by consumers for chemotherapy nausea, morning sickness occurrences during pregnancy as well as help in preventing travel/motion sickness.
"We are proud to offer the Pressure Right Strips to the consumer market and give individuals the opportunity to experience long-lasting effectiveness against nausea related symptoms," said Pressure Point founder, inventor and CEO, Joseph DiLustro. "The product's medical and professional grade P6 acupressure components help to sooth the body in preventing nausea symptoms without drugs or other bulky alternatives."
As a self-administered product, Pressure Right acupressure strips are convenient to use and its anti-nausea/vomiting relief mechanism has been clinically proven to last up to three days. Additionally, included with the Pressure Right strips is a P6 acupressure locator strip to help consumers find the exact location of their P6 pressure point, rather than trying to estimate the exact P6 location on the wrist.
DiLustro added: "Consumers can now rely on a product that has been used at hospitals on a prescription basis for a number of years for thousands of patients."
About Pressure Point Inc.
Pressure Point has been a hospital-based provider of Pressure Right Anti-Nausea Strips since 2011.
Pressure Right is now FDA cleared as an OTC consumer product for multiple anti-nausea indications. These include chemotherapy, pregnancy (morning sickness), surgery and travel/motion sickness. For more information, visit http://www.pressurerightstrips.com