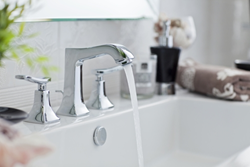 ambient lighting can help turn a drab room into a welcoming space
Chicago, IL (PRWEB) February 04, 2015
When renovating their small bathrooms, homeowners often run into big challenges, especially when it comes to having enough room. However, they don't have to sacrifice style for space because here are five innovative ways to revamp a small bathroom:
With the participation of more homebuyers this winter than last year. The Federal Savings Bank, a Midwest based home lender, has compiled the following list of tips to renovating a bathroom.
1. Combine mirrors and medicine cabinets
Mirrored medicine cabinets add functionality and style to a small bathroom. Large mirrors that cover the entire height of the cabinet can also help make the room look bigger. Better yet, having an entire wall covered in mirrors could enlarge a space to make the bathroom feel less cramped.
2. Have a pop of color
Although homeowners might not consider painting their whole bathrooms a different color, they could choose to add color in various parts of the room. They could install glass mosaic tiles in the shower or hang decorative towels in a vibrant hue.
3. Set up a frameless glass shower door
Apartment Therapy recommended installing frameless glass panels for showers or bathtubs. There is less space for a frame to take up, and the end result is a minimalist and clean design for the bathroom.
4. Light up the room with task and ambient lighting
With the right lighting, homeowners can make their small bathrooms larger. Task lighting can help illuminate only the desired spaces in the room, such as the bathroom mirror, which could also save energy in the long run. Additionally, ambient lighting can help turn a drab room into a welcoming space.
5. Incorporate more built-in storage
Homeowners are often concerned their small bathrooms make it difficult to have a place for everything they need. As a solution, they could include more built-in storage areas as a design element, such as shelving next to the sink for linens and towels, to save on space.
Contact The Federal Savings Bank, a veteran owned bank, to learn more about applying for a mortgage before selling a home.