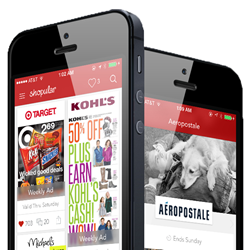 According to Shopular.com, "more than one-third of guys surveyed experience serious Cupid Day gift buying angst."
(PRWEB) February 04, 2015
With Valentine's Day right around the corner, Shopular.com, the top mobile shopping app for iPhone and Android, queried over 450 consumers to get the inside scoop on shopping sentiments for the Big Day. So, what's in the hearts and minds of men and women across America when it comes to buying a gift for that unique "someone"?
According to Shopular research, surprisingly, nearly one-third of guys surveyed have serious anxiety, or even downright dread, around the prospect of Valentine's Day shopping. This might be compounded by the fact that – while women like to think that men give a lot of forethought to the gift purchase – nearly 30 percent of guys polled wait until the day before, or even the night of, Valentine's Day to buy a gift! And, both men and women might take equal pause to learn that both genders – more than 50 percent of women, and 77 percent of men – feel that they typically spend more than they'd like to on a gift to woo their special someone.
Thankfully, this year, Cupid is coming to the rescue like never before. Mobile apps such as Shopular, available for free download from the iTunes store and Google Play, and other similar digital tools, can help take the pain out of the last minute shopping excursion. As revealed in the survey findings, Valentine's Day romancers plan to turn to mobile in large numbers this 2015 season. More than 90 percent of men and 84 percent of women surveyed plan to rely on their mobile phones to scope out the best retail deals as they peruse the stores leading up to February 14th. As part of its "Shopu-love February Savings Days" campaign, Shopular will send geo-targeted mobile deal alerts with purchase ideas and nearby deal offers to its more than 5 million mobile users – helping the lovelorn to ease their heartache, and pocketbook, and make Valentine's Day gift-hunting a little "sweeter" this season.
Here are other highlights of the Shopular's 2015 Valentine's Day Consumer Study:
The Top Gift Categories for Women: Both men and women identified jewelry as their top pick, followed by perfume. But attitudes diverged on other gift items: The next most popular gift selections identified by women included lingerie (44%) and event tickets (30%). While men selected lingerie (25%) and event tickets (13%) as well, they also placed clothing (at 42%), electronics (at 22%) and books (at 10%) high on the list. Perhaps women would like a little less TV time and more one-on-one time with the men in their life…
The Top Gift Categories for Men: While the women surveyed clearly would like their guys to smell good (65% selected cologne as the item they thought their man would most prefer) and stay active (40% opted for sports-related gear as a top gift item, while 24% selected tools and home improvement equipment), men themselves preferred electronics as their first pick (two-thirds of those surveyed), along with new clothes (45%).
The Dating Game: When it comes to courting a "newer" partner, guys aren't afraid to dish out the bigger bucks. More than 40 percent surveyed will spend between $100 and $150 on a woman they have only been dating for a short time.
What, Me Forget? And, what spouse could forget this special day? Hopefully, not a single one, but women surveyed were more fearful than men that their mate would accidently "slip up."
Gifts to Remember: Among the worst gifts ever received according to survey participants? Diet pills, re-gifted flowers, a bag of potato chips, a vacuum, a cooking pan, and cleaning supplies. And, the best gifts ever received? A home cooked meal from someone special, a wedding proposal, a new puppy…and simply the words "I love you."
For more information about how to glean savings around Valentine's Day gift shopping, visit Shopular.com.
Please follow Shopular on:
https://www.facebook.com/shopular
https://twitter.com/shopularapp
https://www.pinterest.com/shopular/
http://instagram.com/shopular