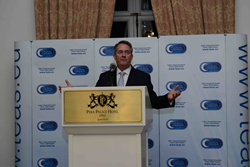 Turkey has been a loyal and enormously important part of NATO, particularly during the dangerous years of the Cold War.
Istanbul, Turkey (PRWEB UK) 4 February 2015
The insightful publication 'Rising Tides – Facing the Challenges of a New Era' by the Rt. Hon. Dr Liam Fox MP was launched in Istanbul on 3 February in a Turkish translation, published by the TEAS Press, which is a division of The European Azerbaijan Society (TEAS). The event was appropriately hosted amidst the palatial surroundings of the Pera Palace Hotel Jumeriah, opened in 1892, whose guests have included Mustafa Kemal Atatürk, the founder of modern Turkey. The launch was attended by around 150 guests, including H.E. Ünal Çeviköz, former Turkish Ambassador to the UK and Azerbaijan; Jens Odlander, Swedish Consul-General to Turkey; Rafe Courage, British Vice-Consul General to Turkey; Nermin Bezmen, best-selling author and Tolga Sayacı, Turkish television actor.
Dr Fox's book strikes a cautionary note, explaining that many of the world's institutions are ill-equipped to deal with the economic and security threats of the 21st century. He delineates current fears over international security, based on his own experience, and then outlines conversations with major decision-makers who have had an irrevocable impact on recent history, including Tony Blair, former British Prime Minister; Condoleezza Rice, former US Secretary of State; Malcolm Rifkind, former UK Secretary of State for Defence; and Donald Rumsfeld, former US Secretary of State for Defence.
Dr Fox outlined: "If there is one country that is emblematic of the challenges and opportunities set out in Rising Tides, then it has to be Turkey. Dangerous neighbours, the threat of transnational terrorism, the rise of Islamic fundamentalism and the competition for global commodities are all issues which are central to political debate in this country. Turkey has been a loyal and enormously important part of NATO, particularly during the dangerous years of the Cold War. It has the second largest military in the Alliance after the US, much larger than Britain or France. By 2019, gas from the Caspian Sea will move from the South Caucasus to Europe via Turkey, and it will replace Ukraine as the major European energy transit country. This, along with Turkey's impressive economic growth record and its reputation for stability in a generally unstable region, make it a good investment choice for the future.
"It is undeniable that globalisation brings many challenges – many of which are attributable to the foibles of human nature. But ultimately it is irreversible in the contemporary world and benefits us all."
Leading British politician Dr Liam Fox has held some of the main positions in the Conservative Party and UK government, including Secretary of State for Defence, Shadow Foreign Secretary, Chairman of the Conservative Party and Shadow Secretary of State for Health.
Entertainment was provided by the legendary 88-year-old pianist Ilham Gencer, who has performed with some of the leading Turkish and international singers and instrumentalists across a career lasting over 70 years.