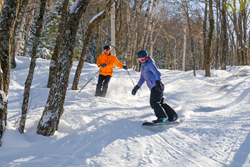 Montpelier, VT (PRWEB) February 04, 2015
Vermont ski and snowboard resorts have received up to 30 inches of fresh powder over the past week and more is in the forecast, making it the best place to be skiing and riding in North America right now. It also adds to the perfect recipe for upcoming holiday fun. With Valentine's Day and Presidents' Day just around the corner, Ski Vermont prepares for a host of events and a parade of visitors to the snowy state.
For couples looking for an original Valentine's Day getaway, look no further than the mountains. Vermont resorts offer great ticket and lodging deals, romantic dinners, couples spa specials and original events like Mount Snow's Cloud Nine Nuptials, or the Tour De Moon at Sugarbush Resort. View a full list of Valentine's Day deals and events at skivermont.com.
Presidents' Day vacation allows families to get outside and enjoy all the great snow Vermont is accumulating during the peak of the season. Kid friendly events, fireworks, torchlight parades and special dinners litter the calendar beginning February 13, 2015. Explore Vermont's full list of events during Presidents' Day weekend and week.
With winter well alive in the Green Mountain state, Ski Vermont is excited to head into the holidays 100% open for skiing and riding with fabulous events, great conditions, and more snow in the forecast. Check out some great shots of the powder we've received over the last week on our Facebook page.
A month long list of February events and deals can also be found at skivermont.com.
Ski Vermont (Vermont Ski Areas Association) is a proud ambassador of the thriving winter tourism industry in Vermont, where the legislature has designated skiing and snowboarding as the official state sports. Vermont is not only the #1 ski state in the east and third in the US, but also reigns supreme in snowmaking quality and coverage, variety of terrain and historical impact on the sports of skiing and snowboarding - making it one of the most significant ski and ride destinations in the world. Ski Vermont's mission is to help create a legislative, economic and social environment in which the state's ski areas can grow and prosper. It serves its 19 Alpine and 30 Nordic member resorts in three major areas: Governmental Affairs, Marketing and Public Affairs.