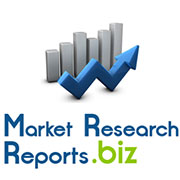 Albany, NY (PRWEB) February 04, 2015
The research report provides a critical understanding of the global metalworking machines market and provides accurate figures related to the size and volume of the market on a worldwide scale as well as at regional levels. With the help of these figures, the client can identify which countries or product segments have the potential for growth or decline, which regional or product markets have been performing well over the years, and which are likely to emerge as leaders during the forecast period of 2007 to 2018. Shares of various product segments, market potential rates, growth rates, and market history are included in the research report, which prove to be invaluable and insightful to trade analysts, managers in the sales and marketing divisions, product managers, industry executives, and any other party seeking competitive data on the global market for metalworking machines.
View Full Report at http://www.marketresearchreports.biz/analysis/229920
The market study tracks the various trends and developments occurring in the metalworking machines industry. It also identifies the factors that govern the market – those that drive the growth of the market and those that pose a challenge to it. The report, based on these findings, makes strategic recommendations and suggestions to improve the profitability of the metalworking machines market.
By product type, the metalworking machine market is segmented into metal sawing and cutting-off machines, lathes for removing metal, metal boring and milling machines, metal shaping machines, metal broaching machines, metal drilling machines, metal threading and tapping machines, metal finishing machine tools, accessories and parts for metalworking machine tools, metal grinding machines, metal honing and lapping machines, machine tools for working metals, metal shaping and slotting machines, machining centres, metal sharpening machines, single/multi-station transfer machines, and machine tools for bending, forging and die-stamping metal.
Download Detail Report With Complete TOC at http://www.marketresearchreports.biz/sample/sample/229920
The countries analyzed in the "Global Metalworking Machine Market to 2018 - Market Size, Growth, and Forecasts in Over 60 Countries" research report are: Lithuania, Germany, Morocco, Vietnam, Sweden, Oman, Armenia, South Korea, Georgia, Ecuador, Finland, Moldova, Romania, China, Egypt, Pakistan, Ukraine, the Czech Republic, South Africa, Slovenia, Mexico, Bangladesh, Jordan, India, the Philippines, the United States, Australia, Hungary, Slovakia, Malaysia, the Netherlands, Azerbaijan, Belgium, Canada, Ireland, Chile, Poland, France, Denmark, Singapore, Bulgaria, Japan, the United Kingdom, Turkey, Peru, Latvia, Spain, Ghana, Italy, Greece, Estonia, Indonesia, Kyrgyzstan, Austria, Norway, Colombia, Macedonia, Iran, Kazakhstan, Argentina, Thailand, Portugal, and Bolivia. The comprehensive publication assesses the strengths and weaknesses of individual nations and also analyzes the impact of external forces such as buyers, suppliers, competitors, new entrants, and substitutes.
Explore All Latest Market research Reports at http://www.marketresearchreports.biz/latest
With the help of tabular representations, the report makes it easy to compare and analyze different product groups as well as countries. This helps in finding opportunities in the metalworking machines market and come up with more profitable and strategic business decisions.
About MarketResearchReports.biz:
Marketresearchreports.biz ( http://www.marketresearchreports.biz/ ) is the most comprehensive collection of market research reports, supporting clients' market intelligence needs with over 100,000 market research reports, company profiles, data books, and regional market profits in its repository. We also offer consulting support for custom market research needs.
Our document database is updated by the hour, which means that our customers always have access to fresh data spanning over 300 industries. From Fortune 500 companies to SMEs, Marketresearchreports.biz has built a veritable reputation for fulfilling the most exacting market research needs.
Contact:
State Tower
90 State Street,
Suite 700, Albany
NY 12207, United States
Toll Free: 866-997-4948
Email: sales(at)marketresearchreports(dot)biz
Browse Blog at https://businessmonitorinternational.wordpress.com/