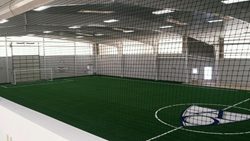 Willoughby, Ohio (PRWEB) February 04, 2015
Andrews Osborne Academy will open phase one of their new 80,000 square foot Indoor Athletic Center on February 8, 2015. The first phase of the new facility includes a 200 x 100 foot synthetic turf playing surface that will be used for a variety of indoor sports including soccer, baseball and lacrosse. The complex also offers batting cages and a pitching area. The IAC (Indoor Athletic Center) will be used by the AOA community for training and conditioning for various athletic teams as well as Physical Education classes, and will also be available to rent to outside organizations. Currently Andrews Osborne Academy has partnerships with AC Premier Soccer Club and the Captains Baseball Academy.
Andrews Osborne Academy will host the Grand Opening of their new Indoor Athletic Center, Sunday, February 8th from 12:00 - 2:00 pm. The Grand Opening celebration will kick off with a ribbon cutting at 12:00 p.m. by AOA's Head of School, Dr. Larry Goodman. Student vs. Faculty soccer games and a "Beat the Goalie Game" with the Head of School and Division Directors will take place from 12:15-1:15 p.m.
Andrews Osborne Academy (AOA) is an independent, coeducational, college preparatory day (grades Pre-Kindergarten through 12th) and boarding (grades 7-12) school near Cleveland, on a 300 acre campus located in Willoughby, Ohio. Our Academy offers elementary, middle and secondary education to committed students in a multicultural setting. Contact the Office of Admission to arrange a tour at 440-942-3600.