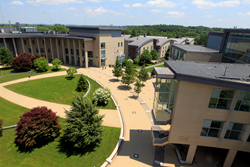 "Olin is committed to making sure that an excellent engineering education can be available to any family, regardless of means."
Needham, Mass. (PRWEB) February 06, 2015
Olin College of Engineering is one of the nation's best colleges for students seeking great academics, outstanding career preparation, and generous financial aid – according to The Princeton Review.
The college is one of 200 schools that the education services company profiles in its just published book, Colleges That Pay You Back: The 200 Best Value Colleges and What It Takes to Get In - 2015 Edition (Penguin Random House / Princeton Review). The school is also featured on The Princeton Review's website.
The Princeton Review developed a unique "Return-on-Education" (ROE) rating to winnow its list of the 200 colleges for this new book. ROE measures 40 weighted data points – everything from academics, cost, financial aid, and student debt to statistics on graduation rates, alumni salaries and job satisfaction. The Company based its ROE rating on data collected in 2013-14 from its surveys of administrators and students at 650 colleges, plus surveys conducted by PayScale.com through April 2014 of alumni of the same schools.
Olin College was listed at #10 in the best financial aid category and #8 for top internship opportunities.
Olin College provides a half-tuition merit scholarship and full need-based aid, less a small family contribution, to every student. Admission is need-blind. "Since its founding, Olin College has made a commitment to ensuring an Olin education is financially within reach for all students," says Olin President Richard Miller. "Olin is committed to making sure that an excellent engineering education can be available to any family, regardless of means."
Fully 95 percent of Olin students are employed or in graduate school six months after graduation.
"We salute and highly recommend Olin College and all of our Colleges That Pay You Back schools," said Robert Franek, The Princeton Review's Senior VP/Publisher and lead author of the book. "They stand out for their excellent academics, impressive career preparation services, and affordability to students with need – via comparatively low sticker prices, generous financial aid, or both. Plus their students graduate with great career prospects."
In the book's profile of Olin College, The Princeton Review editors praise the school for its focus on "innovation and initiative" and Olin students surveyed say that "what distinguishes Olin is its openness to innovation and tight-knit community." The "Career Information" section of the profile lists a high Return-on-Education (ROE) rating score of 93 for Olin College. The profile also includes PayScale.com figures showing the median starting salary for Olin's alumni as $68,200. The three year average starting salary from 2012-2014 is $78,073.
The Princeton Review is also known for its annual school rankings and profiles in its book, The Best 379 Colleges, published in August, and its books, The Best 296 Business Schools and The Best 169 Law Schools, published in October. The Princeton Review is not affiliated with Princeton University and it is not a magazine.