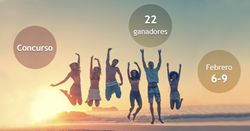 "El servicio es excelente y seguro. Recomendaría HablaCuba a todos los compatriotas." (Orlando Teran on Trustpilot.com)
Atlanta, Georgia (PRWEB) February 06, 2015
On February 6th HablaCuba.com launches a Valentine's Day Facebook contest for all Cubans worldwide and their friends. Prizes consist of international free calls to Cuba or Cubacel top ups and will be awarded by HablaCuba to 22 fans that take the challenge to answer the question "Qué significa el amor para ti?". The prizes will be awarded to those 22 answers that collect the highest numbers of Likes. Participants are challenged to comment on what love means to them, while friends and other HablaCuba.com Facebook fans can Like (vote for) their favorite answer on HablaCuba's timeline: https://www.facebook.com/HablaCuba
The contest runs between February 6th-9th, 2015 on HablaCuba.com Facebook page. The idea of the competition is to meet up on Facebook and share honest opinions about love before the visual avalanche of hearts starts. The contest revolves around the question "Qué significa el amor para ti?" and it challenges everyone to be honest and give a short definition of love, or just a hint, in a personal way. All comments are welcome on: https://www.facebook.com/HablaCuba
The top 22 most popular ideas will get a coupon in value of $22 that they can use for free international calls to Cuba or a Mobile Recharge to Cubacel. Since the last day of the contest is February 9th, 2015 the winners will be acknowledged soon after. The first 22 comments with the highest number of votes (Likes) will be awarded the prizes in appreciation of their generosity. The 22 winners will be announced before February 13th on HablaCuba.com Facebook page. 22 people will be contacted to get their winning coupon of $22 and choose the product they want to use: credit for international calls or a top up to Cuba.
The contest is first of all intended as a community talk on the attributes of love and personal experience. But at the same time it is a good chance to save big money on Voice Credit for international calls to Cuba or other country, or to send a free mobile recharge as a gift to a Cubacel number one favors. It is also an occasion to test a new product like Voice Credit or Mobile Recharge since winners can choose between $22 Voice Credit balance, or a $22 Mobile Recharge sent to a Cubacel cell phone.
A second reason to visit HablaCuba Facebook page these days is to benefit from:

regular promotions like "Doble Bono" or "doble recarga" to Cubacel as it is known
offers on calls to Cuba
plenty of interesting news from Cuba, or recent findings from the field of technology and science, movies, sports, spiced with humor.
Hundreds of thousands of customers use HablaCuba.com for the following reasons:

HablaCuba.com is available in Spanish, English, French and Italian
Less than 1 minute online transaction: international Mobile Recharge or Voice Credit top up
Best value for international mobile recharges on the market
Thank You points convertible into free international calls are awarded for each purchase
24/7 friendly, prompt and loyal Customer Service in Spanish and English, available by chat, phone and email
100% secure transactions; "Verified & Secured" labeled service
No hidden fees
Free account
Voice Credit balance never expires
PayPal accepted, as well as all major credit and debit cards, no matter the account currency
Order history and call log available at any time in the online account
Frequent promotions on international top ups to Cubacel
Highly protective privacy policy
Transparency of communication, 100% customer satisfaction as certified by BBB.
A comprehensive Help Center consisting of FAQ.
HablaCuba.com is best known for the famous "doble bono" or "recargas a Cuba" campaigns offering 100% free mobile credit on top ups to Cubacel. Besides international Mobile Recharges, HablaCuba is also popular for supporting international calls at high quality and phone messages via their Voice Credit. Top ups take 1 minute to send online on HablaCuba.com Mobile Recharge page.
Calls to Cuba or other country can be made using the Voice Credit product:

from any phone via access numbers; without Internet access
from PC through the Web Call app
from a smartphone by using a free app for iOS and Android called KeepCalling
Free features are a plus with HablaCuba.com. These features optimize and customize the way one uses the calling-SMS service: Speed Dial, Auto Recharge, PINless Dialing, and Voice Prompts. The site offers a comprehensive Help Center, while the 24/7 Customer Service is available by phone, email, and chat in both English and Spanish.
About HablaCuba.com:
HablaCuba.com is an interactive website and a brand of KeepCalling, a global telecommunications company registered in 2002 in the USA. HablaCuba has been created to facilitate long-distance communication for Cuban expats, but it is not limited to this immigrant group. KeepCalling, the company behind HablaCuba.com, offers several telecom solutions: Mobile Recharge, also known as top up, airtime or load for mobile credit transfers from country-to-country, Voice Credit and Monthly Plans for low rate international calls due to the VoIP technology, and Virtual Number to receive local calls from family and friends in the native country. KeepCalling services are available through various ethnic websites.
Presently, KeepCalling provides its services to hundreds of thousands of consumers and businesses, with a focus on customer satisfaction. The company has been listed by Inc 5000 in top 20 telecom companies in the USA for the last 4 years. In 2014 it was designated the 18th fastest growing company in the telecommunications industry in the USA with a revenue increase of over 600% from 2010 to 2013.