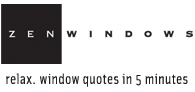 "Zen Windows has turned the entire window sales industry on its ear." Door and Window Magazine, Feb 2014
Rockville, MD (PRWEB) February 06, 2015
Zen Windows introduces a new online business model for purchasing replacement windows and doors for your home. The new approach eliminates high-pressure sales environments as well as costly commissions. It ensures that everyone receives an honest price for a quality window and door, all from the convenience of your computer or tablet.
Montgomery County's Scott Halle isn't a stranger to window sales. Before becoming President of Zen Windows of the Washington DC Metro area, he spent two decades working for a few of the largest window replacement companies. "Something never felt quite right," says Scott Halle. "If you've spent any time shopping for windows or doors, you could probably relate to a number of high pressure tactics."
In-home selling tactics, such as neighborhood discounts, buy one and get one free, window trade-in programs, free installation, and of course the "today only price," etc. always leave consumers wondering if they really are getting the best price. Like many others, Scott Halle knew there had to be a better way. That's when he discovered the Zen Windows approach.
Zen Windows offered franchise opportunities to a select few who had significant experience in window sales. Their model eliminates the entire in-home sales process by allowing homeowners to simply enter basic information (number, style, rough dimensions, etc.) through the ZenWindows.com website, email, or over the phone. They receive a firm quote in minutes. "There are no gimmicks, fake offers, or pricing games," added Halle. "The price is the price; that's what makes it so appealing.
Better yet – since there are no commissions to pay, no salespeople or showroom to support, and very low overhead, Zen Windows and Doors are some of the most competitively priced products in the marketplace. As an added bonus, the quality of the Zen Window offerings is second to none.
Window quotes are available by visiting http://zenwindows.com/locations/replacement-windows-washington-dc/
About Zen Windows of Washington, DC:
Zen Windows of Washington, DC offers a wide variety of replacement windows, sliding glass doors, entry doors and storm doors. They believe in offering a stress-free, honest and uncomplicated process by promising that no salesperson will ever waste 3 to 4 hours of your valuable time with high-pressure pricing games and "buy today only" gimmicks. Using today's technology, they can gather all your project information by phone or email and provide you with a firm quote in a matter of minutes. They will never ask you for a deposit or down payment. You don't pay until your project is finished (usually in 2-3 weeks) and you are completely satisfied.