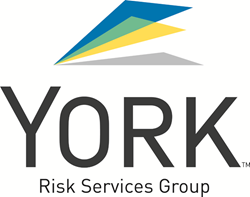 Parsippany, NJ (PRWEB) February 06, 2015
York Risk Services Group (York), a premier national provider of claims-management, medical cost containment, specialized loss adjusting, alternative risk programs, pool administration and other insurance services, today announced that Debra Levy has joined the company as Senior Vice President of Product Management and National Workers' Compensation Practice Leader. In this role, Debra will be responsible for establishing and ensuring the delivery of organizational wide best practices for Workers' Compensation claims handling and that the goals and standards as set by York and its clients are met on a consistent basis. Prior to joining York, Levy held a variety of quality assurance and client service leadership positions with national brokerage, carrier and risk management organizations.
"As a leader in integrated Workers' Compensation claims solutions, York is committed to helping our clients manage and drive down their total cost of risk with innovative products and services," said Mark Aussicker, EVP and Chief Claim and Service Officer of York Risk Services Group, Inc. "With her more than 25 years of risk management, claims and client service experience, Debra brings a depth of knowledge and a broad perspective on what our clients need and how best to develop new ways to consistently deliver high-quality, value added services."
Debra earned her BA in Marketing from Georgia State University.
###
About York Risk Services Group
York Risk Services Group, Inc., is a premier provider of risk management, claims handling, specialized loss adjusting, managed care, pool administration, loss control and other insurance services nationwide. York provides risk management and managed care solutions to a variety of strategic partners, including insurance carriers, self insureds, brokers, wholesalers, MGAs, programs, risk pools and public entities. The third largest TPA in the U.S., York delivers customized claims solutions for all lines of business, including property, liability, products liability, ocean and inland marine, environmental, transportation and logistics, construction and workers' compensation. Based in Parsippany, New Jersey, York and has over 90 offices in the US and a strong international presence. Visit us on the web at http://www.yorkrsg.com.
For more information contact:
Anne W. Ellis, CPCU
Assistant Vice President
Marketing and Communications
York Risk Services Group, Inc.
973-404-1282
Anne(dot)ellis(at)yorkrsg(dot)com