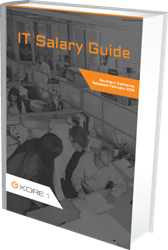 To stay competitive in the industry, it's imperative to stay up-to-date with the latest and most accurate salary data.
Irvine, California (PRWEB) February 04, 2015
KORE1, provider of IT services and solutions to the Southern California area, is excited to announce the release of its new eBook outlining the salary ranges for positions within Southern California's IT sector. The eBook, "IT Salary Guide," is authored by Robert Ardell, Managing Partner at KORE1.
The eBook offers an in-depth look at salary ranges for common positions within the IT industry, particularly in the Southern California region. While other factors such as skills, career growth, and added benefits play a part in the candidate's decision, salary remains the vital deciding factor for any given role.
"It's great to see such growth in our industry," said Steve Quarles, President of KORE1. "The IT market is definitely in favor of the candidate right now. Of course, on either side of the fence – offering a job to someone or deciding whether or not to take it – salary is a huge factor."
The national IT unemployment rate hovers at just below 3% and California as a whole employs more than half a million tech workers, two-thirds of whom are actually in fields outside of technology, including finance and healthcare. Since demand for these professionals is so high, it's no surprise that salaries are on the rise.
"It's only natural that these demand and salary trends are leading employers to question how this will affect their budgets," said Robert Ardell. "To stay competitive in the industry, it's imperative to stay up-to-date with the latest and most accurate salary data. Our hope is that our guide will be a helpful resource for employers in the hiring process."
The eBook carefully outlines each respective salary, taking into consideration experience and salary range with the goal of offering advice on industry outlooks based on current data. To read more on IT salaries in Southern California, click here to download the ebook.
For more information on partnering with KORE1, please contact us at 949-706-6990 or info(at)kore1(dot)com
About KORE1
KORE1 is a nationwide recruiting and staffing firm, focusing on delivering cost-effective business solutions to meet your evolving workforce needs.
We deliver end-to-end talent solutions with a number of specialties, including:

Information Technology
Engineering
Accounting & Finance
Sales & Marketing
Oil & Gas
Healthcare
Our staffing solutions are highly flexible, with options spanning both on-site and off- site teams on a Contract, Contract-to-Hire, or Direct Hire basis. We also offer Payroll Services to help alleviate the burden of back office administration. When you need a highly competent recruiting partner to provide unparalleled staffing solutions, thought leadership, and consistent delivery results, KORE1 can help you achieve your business objectives.