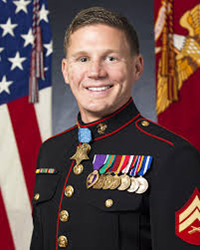 (PRWEB) February 06, 2015
The Marine Corps Association Foundation will host a reunion for veterans of the battle of Marjah, Afghanistan at the National Museum of the Marine Corps in Triangle, Virginia on 13 February 2015.
The featured speaker for the event is retired Marine Corporal Kyle Carpenter who was awarded the Medal of Honor for gallantry in action during the assault of Marjah which occurred in February 2010. For background on the battle and a picture gallery visit the Marjah Veterans website at: http://www.marjahveterans.com/
Camaraderie will begin at 6:00 PM with the Reunion Reception opening at 6:30. Cost to attend is $45.00 with registration fees covering food and soft drinks. Attire for the event is Service A or service equivalent for military personnel and business casual for non-military.
The National Museum of the Marine Corps is located at 900 Jefferson Davis Highway in Triangle, Virginia.
Reservations and payment can be made online at http://www.mca-marines.org/events or by phone at 703-640-0107.
The Marine Corps Association & Foundation is the preeminent association and foundation for all Marines and friends of the Corps dedicated to the development and recognition of professional excellence and expanding the awareness of the rich traditions, history, and esprit of the United States Marine Corps. The MCA&F advances leadership and recognizes excellence by hosting award ceremonies, facilitating Commanders' Forums, delivering Commanders' Unit Libraries, publishing and distributing the Marine Corps Gazette and Leatherneck, and by providing quality uniforms and accessories at the best value. The MCA&F understands and respects the achievements and sacrifices made by Marines and their families while serving this great nation. For more information, visit http://www.mca-marines.org