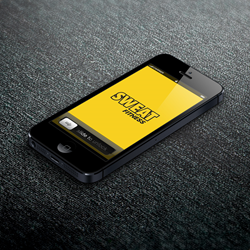 Our app is a way we can further show commitment to our dedicated members and truly thank them for being with us.
Philadelphia, PA (PRWEB) February 05, 2015
SWEAT Fitness, a Philadelphia-based gym, announces a new versatile app that can be used on Apple and Android devices. The new app keeps track of fitness goals & workouts and allows members to enroll classes and schedule personal training appointments.
The new SWEAT app will make exercise reaching fitness goals easier and allows members to track workout results to their created profiles. Profiles can be accessed on a mobile device or on a computer, so gym members can view and track progress outside the gym. Additionally, the SWEAT app is capable of working with numerous 3rd party apps to further enhance the experience.
The new app features:

Group Ex class displays and enrollment, along with the ability to purchase and schedule personal training and registered dietitian appointments
Goal setting capabilities where members can set a goal that will be automatically tracked with every workout recorded manually, through image capture, or through 3rd party fitness apps
Social engagement is incorporated into by allowing members to share achievements with one another, applaud one another, compete and even team up.
Members can join club challenges for accolade and prizes
"Integrating this technology into our clubs will change the way our members use SWEAT," said Tracy Shannon of SWEAT. "It'll make working out more fun and create a stronger sense of community within our clubs. Our app is a way we can further show commitment to our dedicated members and truly thank them for being with us."
The SWEAT app is ready for download in Apple's App Store and Google Play.
About SWEAT Fitness:
Here at SWEAT, everyone is welcome! It doesn't matter your age or what shape you're in. We are committed to providing a great environment in which everyone can feel comfortable to achieve their fitness goals. Our staff and fitness professionals are here to help you on your fitness journey. As a member of SWEAT, you receive unlimited access to all our 8 clubs.
For more information about the SWEAT App or SWEAT Fitness, please contact the Tracy Shannon, at (215)353-6636 or tracyshannon(at)sweatfitness(dot)com.