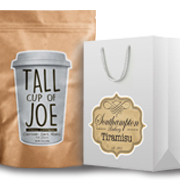 This latest offering will give our customers another way to stand out from the crowd.
Omaha, NE (PRWEB) February 10, 2015
High-quality custom label solution provider Lancer Label has a new product on the market: Laser Cut Labels. Thanks to a new piece of finishing equipment - the laser die cutter - Lancer Label is able to cut labels into almost any shape by way of a process called ablation. The technology, which uses lasers instead of dies, burns off the pressure-sensitive face stock of a label without cutting through the liner.
Does the custom shape of your decal or label have lots of nooks and crannies? These potential stumbling blocks don't faze the laser die cutter, which can cut almost any custom shape as needed.
Versatile Options Available for Laser Cut Labels
The precisely cut labels produced using the laser die cutter can be finished with or without lamination, on rolls or on sheets, depending on the need of the individual distributor. Lancer Label is able to print Laser Cut Labels on most stocks, with the exception of vinyl and clear liners. In addition to a wide array of printing options, distributors that take advantage of Laser Cut Labels can also expect the following benefits:

No die charges: This will allow distributors to print projects at a lower cost and achieve maximum profits. Restrictions may apply.
Faster delivery: The laser die cutter negates the need to spend time tooling a die, which means Lancer Label will be able to deliver labels to distributors more quickly. Turnaround time on most orders is 72 hours.
Wider market reach: With a new product offering like Laser Cut Labels, distributors can widen their market reach and expand their customer base.
"Lancer Label is committed to providing distributors with innovative solutions backed by cutting-edge technologies to help maximize their potential," said Fred Nelson, general manager, Lancer Label. "This latest offering will give our customers another way to stand out from the crowd."
Free Samples Courtesy of Lancer Label
Not sure if Laser Cut Labels are right for you and your customers? Contact Lancer Label today to request a free sample and see for yourself!
About Lancer Label:
With over 50 years of experience in the label industry, Lancer Label is dedicated to providing distributors quality label solutions from a supplier they can trust. Lancer Label offers the gold-standard customer experience, quality products and versatile printing capabilities all at great value. We make selling labels easy! For more information and to place orders online, visit LancerLabel.com. For the latest news and labeling promotional offers, find Lancer Label on Facebook, LinkedIn, Twitter and Google .