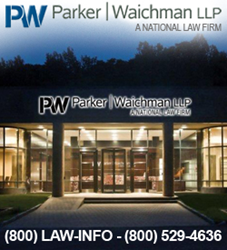 "If the label on a dietary supplement does not accurately reflect what is actually in the product, it can be potentially harmful to the consumer," said Gary Falkowitz, Managing Attorney at Parker Waichman LLP
Port Washington, New York (PRWEB) February 05, 2015
Parker Waichman LLP, a national law firm dedicated to protecting the rights of consumers injured by defective products, drugs and medical devices, is informing the public of an investigation by the New York State attorney general 's office showing that several dietary supplements sold by GNC, Target, Walgreens and Walmart are adulterated. Cease-and-desist letters were sent to all four national retailers demanding that they stop selling certain products. The letters, all dated Feb. 2, 2015, state that few of the tested products actually contained the herb specified on the product's label. Additionally, a number of these products contained potential allergens that were not identified in the ingredients list.
According to an article published by The Washington Post on Feb. 3, 2015, investigators tested 24 products marketed as being seven different types of herbal supplements, including echinacea, garlic, gingko biloba, ginseng, saw palmetto, St. John's wort and valerian root. These products were tested using a process called DNA barcoding, which utilizes a type of "genetic fingerprinting" to identify individual ingredients, The Washington Post reports.
In 19 of 24 tested products, testing showed that the DNA was either from a plant different from what the label claimed or unrecognizable, The Washington Post reports. Furthermore, five products were found to have wheat and two contained beans. Both of these ingredients are potential allergens, but they were never listed on the label. Wal-Mart's products appeared to be the most adulterated; investigators tested six products and none of them purely contained the ingredient marketed on the label.
The letters reference a Canadian study published in 2013 analyzing 44 common supplements. Testing showed that one-third of herbal supplements did not contain any trace of the plant advertised on the label. These findings "alerted the dietary supplement industry to the fact that it is not providing the public with authentic products without substitution, contamination or fillers. It is disappointing that over a year later the attorney general's researcher reached similar conclusions," the letters stated.
According to The Washington Post, the dietary supplement industry has come under increased scrutiny in recent years. Even though federal guidelines require companies to accurately label their products and ensure their safety, the U.S. Food and Drug Administration (FDA) has little authority to enforce compliance. Supplements are not strictly regulated by the agency because they are not categorized as food or drugs. The Journal of the American Medical Association published a paper in 2012 showing that this loose regulation could result in "adverse events", including kidney failure, hepatitis and other problems. The Department of Health and Human Services also took issue with the supplement industry in 2012, and released a report stating that companies' claims are rarely based on scientific evidence. The agency advised the FDA to seek "explicit statutory authority to review substantiation for structure/function claims"; this would make supplements subject to the same regulations as drugs.
These supplements can pose serious health risks. People who have allergies or are taking certain medications can suffer dangerous reactions from herbal concoctions that contain substances not listed on the label. in fact, accordingly to The New York Times, two bottles labeled as St. John's wort, which studies have shown may treat mild depression, contained none of the medicinal herb. Instead, the pills in one bottle were made of nothing but rice, and another bottle contained only Alexandrian senna, an Egyptian yellow shrub that is a powerful laxative. Gingko biloba supplements, promoted as memory enhancers, were mixed with fillers and black walnut, a potentially deadly hazard for people with nut allergies.
According to Parker Waichman LLP, a number of dietary supplement users may unknowingly consume products that are adulterated. "If the label on a dietary supplement does not accurately reflect what is actually in the product, it can be potentially harmful to the consumer," said Gary Falkowitz, Managing Attorney at Parker Waichman LLP. "Our firm continues to offer free, no-obligation legal consultations to anyone with questions about their legal rights."
Parker Waichman LLP offers free consultations to victims of injuries associated with the use of allegedly defective drug products. If you or a loved one experienced complications following use of the dietary supplements, please visit the firm's Drug Injury Page at yourlawyer.com. Free case evaluations are also available by calling 1-800-LAW-INFO (1-800-529-4636).