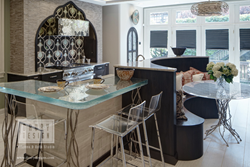 This eclectic kitchen, housing many focal points and contrasting textures, serves as a functional, multifaceted space for the busy city family. NKBA
Glen Ellyn, IL (PRWEB) February 06, 2015
Inspired by world travels, America's most beautiful kitchen design lives in Chicago's Lincoln Park.
Designed by Drury Design team member, Brigitte Fabi CMKBD, the kitchen's rich eclectic look realized the vision of world travelers who call Chicago home. The Moorish Contemporary kitchen design was honored with two awards: Best of Show and first place in large kitchen category at the 2015 National Kitchen and Bath Association [NKBA] Design Competition Awards during the Kitchen & Bath Industry Show KBIS in Las Vegas.
Accented with antiques from Morocco, the design reflects the homeowners' love of all things international. A stunning antique Moroccan door purchased on a past trip to Marrakesh provided inspiration, not only for styling, but also for color, texture and pattern that was repeated throughout the final design. For more information about this double NKBA award winner, and to browse Drury Design's award-winning kitchen and bath design portfolio, visit http://drurydesign.com.
Called "The Moroccan Marvel" by NKBA, this double award-winning kitchen remodel is on the cover of the NKBA's "2015 Best Kitchen and Bath" KBIS issue. The NBKA describes the best of show winner, "This eclectic kitchen, housing many focal points and contrasting textures, serves as a functional, multifaceted space for the busy city family."
NKBA Best of Show Design Competition Kitchen Special Features
Grabill Cabinets: Cabinetry
Wolf: Pro style range, warmer drawer, steamer microwave oven
Sub-Zero: Refrigerator & Freezer
Sheri Law Art Glass: Custom Art Glass – Refrigerator & freezer panels, table, appliance and pantry door
Thinkglass: 2 1/2 inch crystal granular glass bar top
Ceramic Tole Int'l: Flooring
Mosaique Surface: Backsplash and wall tile
Based in Glen Ellyn, Illinois, Drury Design is a full-service kitchen, bath and interior design firm specializing in designer kitchen and baths with clients throughout the Chicago area. Collectively, Drury Design's team members have won over 30 design industry awards.
Open only to NKBA members, the NKBA Design Competition recognizes the talent of kitchen and bath designers to plan functional and beautiful spaces. Each entry is judged based on visual appeal and creativity, as well as basic principles of design, presentation, safety and ergonomics using the NKBA Kitchen and Bath Planning Guidelines.
"Congratulations to Drury Design's Brigitte Fabi, CMKBD on a remarkable kitchen design and remodel in Chicago. We're honored to have received recognition on behalf our client and our team from the NKBA at KBIS," said Jim Drury, vice president of Drury Design.
Brigitte says, "The homeowners wanted to change the space in several ways, mostly in conjunction with opening up the space for entertaining, and freshening up a 20 year old remodel. in an historic Chicago home. I'd like to thank the NKBA for their recognition and I'd love to tell my clients how grateful I am for the opportunity to work with them on a project that became such an incredible journey for all of us at Drury Design. This is a once in a lifetime project for a really special and remarkable family."
In 2013, Brigitte was honored with two NKBA Design Competition awards: best before and after bath for a luxurious spa, and third place in the large kitchen category for an Arts and Crafts kitchen remodel in a Chicago loft, inspired by Charles Rennie Mackintosh.
About The National Kitchen & Bath Association
The National Kitchen & Bath Association (NKBA) is a nonprofit trade association that owns the Kitchen & Bath Industry Show (KBIS®). With 60,000+ members, the NKBA has educated and led the kitchen and bath industry since its founding in 1963. The mission of the NKBA is to enhance member success and excellence, promote professionalism and ethical business practices, and provide leadership and direction for the kitchen and bath industry worldwide.
About Drury Design Kitchen & Bath Studio
With the vision to provide remarkable results for their clients, Drury Design Kitchen & Bath Studio offers a client-focused design experience driven by the studio's integrated team and equipped with the finest quality materials on the market today. Gail Drury, CMKBD and president, founded the studio in 1987. Located at 512 N. Main Street in downtown Glen Ellyn, Illinois, the award-winning 7,500 sq. ft. studio features 30 displays. To interview Gail Drury about kitchen, bath and home design trends or to request permission to use an image, contact Jim Drury at 630.469.4980. View Drury Design's online custom kitchen and bath design portfolio on Houzz and Pinterest.