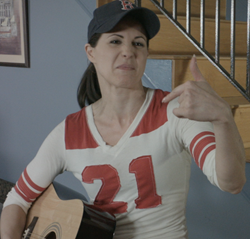 When you go on Craigslist to find a roommate you must be desperate. I started on Craigslist...
Los Angeles, CA (PRWEB) February 05, 2015
Comedy Catalyst announced that the award winning comedic webseries, 'ROOMIEZ,' returns today with eight additional episodes being released worldwide on Youtube's Comedy Catalyst channel, http://www.youtube.com/comedycatalyst, and on Funny or Die, with a new episode rolling out every Thursday for eight weeks.
In the premiere of Season Two, Sarah Silverman, played by Julie Warnock, comes by Ulrich's place-for-rent to be close to her ex Jimmy Kimmel, and take care of some unfinished business (http://www.funnyordie.com/comedycatalyst).
Over the course of the next 8 weeks, comedian Chase Ulrich stars in the series about a cranky German stand-up looking for a roommate on Craigslist and the many plunders and personalities he meets along the way.
Said Ulrich, "If you go on Craigslist to find a roomie, you have pretty much run out of other options and the people looking for a place are typically as desperate as you are. Now, more often than not, it's not a match, but you can't discriminate against anyone for anything, so you have to come up with creative ways to tell them "it's not a fit." I've lifted my shirt a couple of times, asking them, "Do you think that is a lot of hair?" They usually leave very quickly. If not, I follow up with, "Do you want to touch it?'"
Creator, writer, and actor, Chase Ulrich, wrote the series based on his real life experiences of finding a roommate for his house in Manhattan Beach. "It takes courage and, yes, balls to write, produce and act in your own comedy webseries (based on your own experiences)," 'ROOMIEZ' director and acting coach Susan Giosa said. Chase Ulrich created a very funny slice-of-life series that anybody who has ever looked for a roommate can relate to.
'ROOMIEZ' Season One is the most watched new scripted webseries on Youtube's Comedy Catalyst channel, as well as on FunnyOrDie. 'ROOMIEZ' Season One included 10 episodes and 2 specials and began airing in Spring of 2014. 'ROOMIEZ' won both 'BEST COMEDY' and 'BEST WEBSERIES' at Atlanta's 2014 Webfest.
"Original scripted content made-for-the-internet is quickly becoming part of mainstream culture. Already, over 50% of broadband users report watching TV shows online everyday. The number of online TV consumers is projected to reach 99.02 million this year," Carl Johnson, CEO of Comedy Catalyst said. "Although nobody has cracked making money scripted webseries busniness yet, ROOMIEZ comes pretty close. We had several sponsors and product placement deals in place to pay for production, the writers, actors and director. As more and more people are moving away from traditional TV viewing and watching shows at work and on portable devices promoted instantly by social media, there is a market for orginal scripted and improv'd comedic webseries. There is so much talent out there, and when a webseries such as 'ROOMIEZ' is successful it encourages other people to go out on a limb and showcase their talent and sense of humor."
ABOUT COMEDY CATALYST:
Comedy Catalyst (http://www.comedycatalyst.com) is a leading online media destination for all original comedic webseries. Created in 2014, Comedy Catalyst showcases the funniest in original comedic programming and parody videos. Follow @comedycatalyst.
WATCH THE NEWEST EPISODE 'SINGING SARAH' AT:
http://www.funnyordie.com/comedycatalyst
Comedy Catalyst Contact:
(310) 910-1885
patriciahartz1(at)yahoo.com
SOURCE Comedy Catalyst