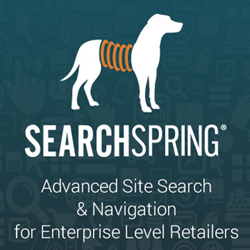 SearchSpring is very excited to offer our new Enterprise features to the IR Top 1000!
Colorado Springs, Colorado (PRWEB) February 05, 2015
SearchSpring, the leading provider of ecommerce site search and navigation solutions, released enterprise-level site search offerings for top online retailers today. For over seven years, SearchSpring has provided world-class ecommerce tools to etailers around the globe. Powering over 800 websites internationally, SearchSpring looks to increase the success of the Internet Retailer 1000 with tailored offerings, creating more revenue and customer loyalty.
"As our client base grows, it's important for us to align ourselves and provide each customer with superior service. Many large companies come to us with site search needs and we've loved helping them improve their online revenue performance. SearchSpring is very excited to work closely with more enterprise-level clients," said Scott Zielinski, Founder and COO of SearchSpring.
SearchSpring Benefits
SearchSpring offers a comprehensive ecommerce site search and navigation platform that enhances the customer experience with feature-rich shopping cart solutions. Integrating with any shopping cart available, SearchSpring can turn any online store into a high-performing sales machine using intelligent search, (facet-driven) category navigation, rich autocomplete, in-depth merchandising tools, and actionable reporting for continual refinements. Average SearchSpring clients see typical conversion rate increases of 200-300% immediately after integration.
Getting Started with SearchSpring Enterprise
SearchSpring's new enterprise packages gives corporate etailers the ability to enhance their store's performance drastically, automatically learning from shopper interaction and displaying the best possible results for conversion. Enterprise customers will gain access to real-time indexing, dedicated account support, full-service integration, early access to new features, sandbox account(s), multi-site packaging, direct API access, and much more. Current enterprise clients include DollsKill.com, Lulus.com, and TechForLess.com.
"Our technology has grown rapidly, and so has our client base. During the last year, we've seen tremendous growth, and we're excited to continue that growth with a focus on high-quality enterprise integrations. Our clients mean everything to us, keeping our offerings relevant ensures long-term success for both parties," said Gareth Dismore, Founder and CTO of SearchSpring.
About SearchSpring
SearchSpring® boosts sales by unleashing findability with advanced site search for ecommerce platforms. Providing faceted navigation, smart search results, and IntelliSuggest® technology to lift conversions and improve speed, scalability, and customer loyalty. SearchSpring propels merchants to new levels of ecommerce performance by turning your website into a fire breathing, high-conversion monster! For more information on SearchSpring integration, pricing, and a demo, visit http://www.searchspring.com or call 1.888.643.9043.