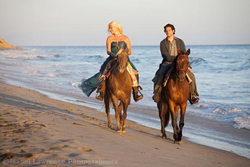 Santa Barbara, CA (PRWEB) February 04, 2015
Spring is a great time to plan a vacation so why not slip on your flip-flops and head to Santa Barbara! Get ready to dance at the ocean-side concert in celebration of the Santa Barbara Arts and Craft Show 50th anniversary or get inspired and explore Santa Barbara's natural beauty during Public Gardens Appreciation Month. Food and wine enthusiasts are in for a treat as Santa Barbara hosts two amazing culinary events in April and sports aficionados can join in to welcome back The Amgen Tour of California. The flowers are blooming and the sun is shining in Santa Barbara this spring, keep reading for more exciting news of this season.
1) Santa Barbara will be the starting point of the 5th stage of The Amgen Tour of California, one of the most prestigious cycling events in America. On May 14th, hundreds of professional cyclists will take off to continue on the 700-mile route that highlights many of California's most breathtaking sceneries. Santa Barbara is honored to be included in this year's route as The Amgen Tour of California celebrates its 10th anniversary! AmgenTourOfCalifornia.com
2) The annual Santa Barbara Vintners Spring Weekend, held from April 23th - 26th, is a premier opportunity to attend a diversity of wine maker events. Taste wines from the more than 120 winery members at tasting room open houses, vineyard walks, and more. Also featured at the Vintners Spring Weekend is the Santa Barbara Wine Seminar, a fun and engaging discussion with six wine producers from Santa Barbara County held Saturday morning. SBVintnersWeekend.com
3) In partnership with The Julia Child Foundation for Gastronomy and the Culinary Arts, Bacara Resort & Spa presents the 2nd annual Santa Barbara Food & Wine Weekend. This event showcases the distinct tastes, sights and sounds of the region while also bringing cutting-edge culinary talent from across the country. Taste, sip and learn about the best and latest in food this April 16th - 19th through panel discussions, cooking demonstrations and more. BacaraCulinaryWeekend.com
4) The Hungry Cat restaurant is shaking things up this year as they introduce a revamped menu and a new Chef de Cuisine. Peter Cham, a Santa Barbara native who has worked with top culinary talents, has traveled all the way from Massachusetts to start a legacy of his own. Look out for The Hungry Cat's completely new menu, which contains innovative plates such as the Pink Snapper Crudo and Squid Ink Tagliatelle. The HungryCat.com
5) Cielito continues to bring the enticing flavors of Latin America to Santa Barbara and is now introducing Chef Kurt Steeber as part of its team. Previously the Executive Chef at the Ranch at Live Oak in Malibu, Steeber has the reputation of creating healthy indulgences with an unexpected twist. Dine at Cielito and enjoy their updated menu delivering cuisine that is not just delicious but also healthy. CielitoRestaurant.com
6) From April through October, The Santa Barbara Bowl hosts concerts from major names of the music world every year. With great events in store for 2015, The Santa Barbara Bowl is kicking off this season with Grammy Nominated band Alt-J and special guest band Jungle. Keep an eye out for the rest of this year's line-up, which has already confirmed pianist Diana Krall, and the lead singer for Dire Straits, Mark Knopfler. SBBowl.com
7) Let local speakers guide you through Santa Barbara's history and transformation while enjoying a glass of wine. Held at different tasting rooms throughout Santa Barbara, History Happy Hour is a new relaxed opportunity for those who want to learn more about Santa Barbara's heritage in a fun and immersive setting. Learn while you sip and join the Santa Barbara Historical Museum in their second event of the series on March 5th at Jamie Slone Wines. SantaBarbaraMuseum.com
8) Every Sunday, Santa Barbara's artists present a mile-long collection of locally-crafted pieces under the palm trees along Cabrillo Boulevard. Established in 1965, The Santa Barbara Arts and Crafts Show celebrates its 50th anniversary in 2015! Visit Chase Palm Park on May 16th and 17th and dance to the music of Spencer the Gardener, a local band with a distinctively quirky and genre-bending style, to celebrate 50 years of local talent. SBAACS.com
9) As part of National Public Gardens Day on May 8th, Santa Barbara celebrates Public Gardens Appreciation Month, a local festivity that encourages the community to discover the area's wealth and diversity of gardens. Throughout the month of May, the public gardens of Santa Barbara invite locals and visitors to explore their extraordinary locations by offering a variety of discounts and special events such as, exhibits, lectures, tours and other activities. SBPublicGardens.com
10) Having his son as an inspiration, founder of the popular Silvergreens Restaurant in Santa Barbara has created a unique restaurant concept that is changing the world one burger at a time. Known as Kyle's Kitchen, the newly opened restaurant teams up with different organizations in the community to help people with special needs reach their potential. Come on in to Kyle's Kitchen! Where it never felt so good to eat a delicious burger. KylesKitchen.com
11) Also known as the "Ceviche Taco Project," Corazon Cocina is the new sensation of East Santa Barbara. Borrowing the Three Pickles Deli location, this new pop-up restaurant is open only on Sundays. Chef Ramon Velazquez serves a small market-inspired menu made with freshly picked ingredients, which includes different specialties every week. Come by Corazon Cocina and try their amazing ceviche, tacos and aguas frescas. Facebook.com/SBCorazonCocina
12) After six successful years of chartering in the Virgin Islands, the Green Flash Luxury Catamaran is now available in Santa Barbara! Owned and operated by locals Captain Arthur and Chef Sherri McNary, it offers the ultimate sailing experience. Embark on an unforgettable adventure and step aboard the Green Flash to enjoy a high-end dinner inspired by local seasonal cuisine that perfectly complements the Santa Barbara ocean breezes. YachtGreenFlash.com
13) Santa Barbara Beach Horseback Rides offers an unforgettable experience where novice and experienced horseback riders can enjoy the glorious vistas of Santa Barbara's beachfront. Saddle up and tour the mountain bluffs overlooking the pacific coastline or travel along a secluded and peaceful beach. The sound of ocean waves crashing on the shore, combined with the scenery of a majestic sunset, make for the perfect horseback riding experience. SBBeachRides.com
14) Santa Barbara visitors can't get enough of baby Buttercup, a newly born Masai giraffe that the Santa Barbara Zoo welcomed during the winter. But, as if that wasn't enough, a second long-necked arrival is expected this March! Masai giraffes are the tallest land mammal on earth and just over 100 of them exist in North America, which makes Buttercup's and his soon-to-be playmate's birth an extraordinary occurrence you don't want to miss. SBZoo.org
15) Inspired by an Ernest Hemingway short story, the Good Lion Cocktail Bar has opened next door to The Granada Theatre. Their innovative cocktails crafted with local seasonal ingredients, combined with weekly live music and Spanish style tapas makes the perfect place for a fun get-together. Visit the newest addition to Santa Barbara's Historic Theater District and enjoy cocktails surrounded by the arts and culture of downtown Santa Barbara. GoodLionCocktails.com
ABOUT SANTA BARBARA
Featured on the cover of Travel + Leisure in May 2013 and voted Best Getaway by L.A. Times Readers' Choice Awards in 2012, Santa Barbara is located just 92 miles north of Los Angeles and 332 miles south of San Francisco, on the Pacific coastline. Visitors can arrive via scenic Highway 101, train, bus or by flying into Santa Barbara Municipal Airport or Los Angeles International Airport. For travel and accommodation information and to request a free copy of the official Santa Barbara County Visitors Magazine, contact Visit Santa Barbara at 800.676.1266, 805.966.9222, tourism@santabarbaraca.com or SantaBarbaraCA.com. Visitor information is also available at the Visitor Center, 1 Garden Street (at Cabrillo Boulevard).
MEDIA INFORMATION
Stay informed about Santa Barbara news with our Media Center, press releases and blog, TheSBPost.com. Just getting to know Santa Barbara? The Media Field Guide is a great place to start. Planning a research visit? Use the Press Trip Request form to get the process started. Follow us on Facebook and Twitter for daily updates, and visit our Mobile Site for on-the-go information about dining, wine, accommodations, events, attractions and more.