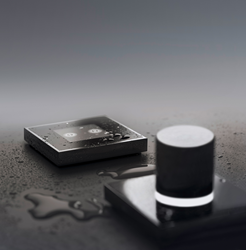 Smart Water enhances every bathroom ritual, whether at the sink, shower, or tub.
Atlanta, GA (PRWEB) February 06, 2015
Dornbracht introduces Smart Water– a new technology that enhances everyday experiences in the kitchen and bathroom. Smart Water allows for precise control of water temperature and volume and offers numerous functions to manage daily tasks, including a measurement feature that dispenses water in cups and quarts and a foot sensor for hands-free control. The easy-to-use display switch and two control knobs that make up the Smart Tools have a sleek, simple look that fits into any kitchen or bathroom design.
Smart Water for Bathroom
Smart Water enhances every bathroom ritual, whether at the sink, shower, or tub. For all applications, turning the control knobs gives immediate feedback on the display switch - in temperature and volume.
Key Features:
Tub: Only one or two clicks on the display switch - or the app - automatically fills the tub to the desired temperature and level. The app even alerts when the tub is full.
Shower: In the shower, each family member can select his or her name on the display switch for personalized settings or choose from various preprogrammed scenarios. Turn water off for shaving, for example, and the memory function turns the water back on at precisely the same settings – saving water.
Sink: Smart Water at the sink features a foot sensor for hands-free control, memory function and the ability to work with multiple outlets. No separate diverter is needed for the sink, shower or tub.
eUnit Kitchen
Dornbracht's eUnit Kitchen uses Smart Water technology to make cleaning, prepping and cooking easy. Turn water on and off with a foot sensor and choose the exact amount of cups or quarts for a recipe. Preprogram measurements for different pot sizes, like pasta pots and sauce pans. Just like in the bathroom, precise volume and temperature can be reached using the control knobs, and the convenient memory function temporarily stores these settings, saving time and water in-between tasks. eUnit Kitchen even eliminates the need to put hands in dirty water. The electronic drain opens and closes with just a press of a button.
The Smart Water concept is based on how technology can add value to everyday lives, meaning it shouldn't be complicated. Thus, Smart Water controls include a simple display switch and two control knobs for volume and temperature. There are no complicated menus - all options are on the first level. In addition, the display is not a touch screen, making it easy to work with wet hands. Smart Water also features a "plug and play" installation, making it easy on installers.
Smart Water and eUnit Kitchen are available April 2015.
About Dornbracht
Dornbracht represents the very highest quality in German manufacturing, progressive production and innovative design. The company's luxury designer fittings and accessories have won numerous international awards, acting as a driving force for the developments and trends of an entire industry. This success story is based on a principle that has held up for more than 60 years, namely that change should never be regarded as constraint, but as opportunity.