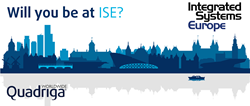 ISE 2015 will see Quadriga demonstrate their Sensiq solution, all of which will be running on the latest smart TVs from LG and Samsung.
Theale, United Kingdom (PRWEB UK) 5 February 2015
ISE 2015, one of the biggest annual events for the electronic system and AV industry, will be taking place at the Amsterdam RAI from 10th-12th February.
Quadriga will be in attendance throughout the event, showcasing their in room entertainment solutions in partnership with LG and Samsung.
The event will see Quadriga demonstrate their Sensiq solution, all of which will be running on the latest smart TVs from LG and Samsung.
Sensiq showcasing:
Content shifting and mirroring on all iOS and Android devices that support it.

Promote 2 Guest, Movies on Demand and special offers - Increase direct and indirect revenues.
Home from home TV via our customisable UI and mobile pairing.
Enhance guest satisfaction.
Electronic Programme Guide (EPG) supports the data from every broadcast TV channel.
Once checked in the guest's preferred language will be recognised on the PMS automatically and used on the EPG.
Full Analytics around TV viewing stats to ensure guests have their favourite programmes at their fingertips. Move channel maps specifically.
Flexible internet services – high quality and reliable connection at all times that integrates seamlessly with your PMS system.
Better Technology – future proofing your system and ensuring higher ROI with a lower cost of ownership.
Find us alongside Samsung on Stand 1-H20 on 10th and 11th and with LG on the 12th in Hall 11.
For more information, visit http://www.quadriga.com
==Ends==
About Quadriga
Quadriga is a leading international provider of guest technology managed services for the hospitality industry and our commitment is to maximise a customers' on-property value and guest satisfaction
Quadriga provides customers with the flexibility and reassurance that they can obtain a complete, accessible and relevant guest technology solution that meets their business revenue, guest satisfaction and operational efficiency targets, all from a single, financially robust partner. Our value proposition is to provide technology solutions which enable customers to:
Connect with your guests – and guests with the hotel and their world
Control the guest experience and your network and TV environment
Commercialise new business and revenue opportunities
This value is delivered via a 360º integrated and managed service approach to design, build and manage a complete network and technology ecosystem focussed on the needs of hospitality and guests.
Quadriga offers a single point of contact for a range of managed services covering Networks, WiFi, Hospitality TVs, Interactive TV & Mobile platforms and Financial Services. These integrate multiple hardware and software components, proprietary to Quadriga or via 'best-in-class' partners, with an unrivalled range of multimedia content solutions and expert operational and professional services.
Quadriga has more than 30 years experience serving the hospitality sector and operates in the key strategic geographies of USA, Europe, Middle East and Africa, supporting more than 300,000 guest rooms including 100,000 with HSIA. The company has unrivalled knowledge and approaching 15 years experience in managing hotel networks, Internet provision, digital IP systems and delivering IP over coax networks.
Quadriga will continue to leverage its capabilities, its partnerships and deep knowledge of the hospitality sector to create solutions that harness the latest technologies and meet ever- evolving customer business needs and guest expectations.
Press Contact
Vicky Daniels
Group Marketing Manager
Quadriga Worldwide Ltd
Telephone - +44 (0) 118 916 7181
Email - Vicky.Daniels(at)quadriga(dot)com