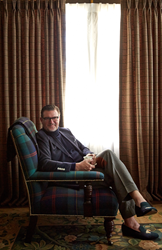 San Francisco, CA (PRWEB) February 04, 2015
Acclaimed interior designer Scot Meacham Wood is thrilled to announce the Fall 2015 launch of Scot Meacham Wood Home. SMW Home centers on the textile collection which marks Scot's evolution from an interior designer into a lifestyle brand influenced by his formative years at Ralph Lauren, the design atelier where he honed his creative talent for thirteen years. While SMW Design will continue to service clients' interior needs, Scot Meacham Wood Home will serve as a natural extension of Scot's design aesthetic and personality.
Using goods imported from a historic mill in Scotland, SMW Home's fabric collection features 56 sumptuous fabrics--tweeds, tattersalls, and tartans--in three different color palettes. Based in traditional colours, but including shocking yellows and regal purples, the fabrics reflect the country's history yet still pay homage to Scot's Southern roots, with a dash of modernity. The collection updates classic textiles for today's home while maintaining the fine tailored details that best reflect Scotland's romantic charm.
A pattern that has become synonymous with Scot's design identity, the tartans are without a doubt the collection's signature style. These timeless fabrics draw on the designer's penchant for elegant menswear details which often inspire his interiors. Although drawn from tradition, the tartans play with scale in order to accommodate larger elements in the interiors such as drapery and upholstered goods.
Beyond the fabric collection, Scot's lifestyle collection will include trimmings, hand-selected antiques, furniture, one-of-a-kind pieces and home accessories. With their vibrant personality and singular attention to detail, SMW Home's offerings are sure to add an element of sophistication to any gracious dwelling.
SMW Home's collection will be available Fall 2015 in HEWN San Francisco (to the trade) and online at http://www.scotmeachamwoodhome.com.
About Scot Meacham Wood
Native to the South but rooted in Scotland, Scot Meacham Wood is recognized for both his timeless design and captivating persona. Pulling from his cultural background and 13 years of experience working with Ralph Lauren, Scot has created an influential style that he describes as a combination of gracious 'expected' with some whimsical 'surprise.' Established in San Francisco, the respected designer maintains a strong presence in the design industry as well as the online community. Thanks to his European style and Southern hospitality, Scot Meacham Wood can certainly light up a room.