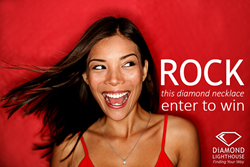 New York, NY (PRWEB) February 05, 2015
Diamond Lighthouse has announced a contest to win a free diamond necklace. The new start-up hears stories every day as to why people want to sell their diamonds and this was the inspiration behind this contest, to collect tales that could be shared with the world of social media.
Entrants are invited to write a short romantic story and share it through a Facebook application. Story submissions can be real or fictional, humorous or heart-felt. The diamond experts at this brokerage company are looking for stories that convey some truth about love. This may appeal to men looking to showcase their wits and win a diamond prize for their girlfriend, wife or mother. Diamond Lighthouse is also encouraging all women to compete for the diamond themselves, as they believe everyone should have the chance to win something special at this time of year. The prize, a gorgeous, classic pear drop diamond, worth roughly 2000 dollars, will be shipped free of charge just in time for Valentine's Day.
"Every diamond has a story," says CEO Shaya Weisfeld, some are long tales that last through generations. Every day, Diamond Lighthouse staffers come in contact with these real life stories of old love, new love and of course, heartbreak. They have brokered diamonds that loving couples want to sell to replace with even higher quality diamonds. They have brokered diamonds from women who have recently remarried and are now ready to cash in rings from previous marriages. They have brokered inherited diamonds that younger relatives have put to good use to pay off student loans or to finance a home. "Diamonds and stories of love last a long time, but the love itself is what's everlasting," says Sales Associate, Mary Urena.
A valued aspect of Diamond Lighthouse's platform is that their clients have the ability to disclose whatever information they want. If they choose to, clients are encouraged to share their personal story of why they are selling their diamond. If they want to keep all of that information confidential, they have the liberty to do this as well. As with the entire selling process at Diamond Lighthouse, the control is always in the clients' hands.
Diamond Lighthouse will be sharing excerpts from these submitted stories on their social media channels during the Valentine's Day season.
DiamondLighthouse.com was created to give the diamond market an objective and trustworthy intermediary. Their efficient and transparent online method of brokering diamond sales levels the playing field. They bridge the gap between people looking to sell their diamonds and professional diamond dealers. Every diamond is exquisite and unique, and Diamond Lighthouse's expertise in evaluating diamonds and understanding of market trends and practices is critical for a fair business exchange. Diamond Lighthouse has over 30 years of experience in the diamond business and longstanding relationships with a pool of sophisticated and reputable diamond buyers and dealers.