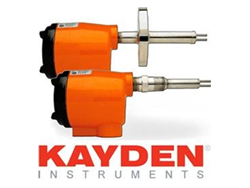 China and Australia are two examples of countries that can offer limitless applications for the Kayden brand.
(PRWEB) February 09, 2015
Telematic Controls is pleased to announce new partnerships with Kayden Instruments in China and Australia. Kayden, one of the leading manufactures or Flow, Level and Interface switches, has been quickly expanding since opening their doors in 1994, and Telematic looks to increase their global reach by creating partnerships with new distributors, as well as creating better customer service for all Kayden clients internationally.
Darren Weatherhead, Sales Manager, says, "China and Australia are two examples of countries that can offer limitless applications for the Kayden brand, and by partnering with the respective distributors of these countries, we gain a unique access to these new markets."
Kayden Instrument's products serve a number of different heavy industries, including oil & gas, refining, chemical manufacturing and much more. Their unique brand of flow switches, level switches and interface switches can be configured for diverse tasks and various media applications, such as air, gases, liquids and slurries.
With the partnership of these new sales reps, customers within these areas of the world will now have easier access to high-quality Kayden products, as well as better sales assistance, technical support and customer service. These localized product specialists will be able to better assist regional industry trends and needs.
In Australia, sales representative Control Components Pty Ltd, which has been in business since 1997, has over a dozen different brands of flow, pressure, and level switches to choose from. Meanwhile, sales representative Joy Inter Industry Corp Ltd in China will be able to better supply the local, booming manufacturing and automation market with Kayden products.
Telematic continues to expand their reach to local markets with these new sales reps, and hopes to offer more of their popular brands, such as Turck, Fairchild and CCS Dual Snap to new international areas in the coming months.
For more information on local distributors of process control equipment, visit Telematic for more information. Or, find out more about Kayden and their innovative lineup of products on Telematic today.