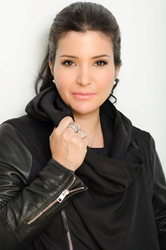 VMGROUPE was a finalist from the very beginning.
Miami, Florida (PRWEB) February 06, 2015
On the heels of announcing Miami as their base of operations, KARIGAM follows up with selection of the New York and Geneva based VMGROUPE as their agency of record. VMGROUPE beat out a stellar roster of competitors from New York, the UK and Miami.
"We are so pleased to have VMGROUPE as our new strategic communications partner," commented KARIGAM CEO, Karina Gamez. "We received several stellar agency presentations from the some of the best in the business," continued Ms. Gamez, "and VMGROUPE was a finalist from the very beginning." "We probably could have made this decision before the holidays, but to be fair to our brand, we opened up consideration to Miami agencies as well as abroad. Now we definitely feel confident in our due diligence and selection."
Addia Cooper-Henry and Daniel Garriga, VMGROUPE's founding partners sent out a mutual statement announcing their excitement for the new branding opportunity. "KARIGAM has their sights set on reaching a very special, successful, business-minded, discerning female consumer," commented Daniel Garriga. "With our luxury branding and creative marketing experiences for the worlds largest high profile brands, we are confident that we can develop the right story for KARIGAM's targeted retailers and consumers, and provide a platform for immediate and long-term success and growth," added Addia Cooper-Henry.
KARIGAM's initial fashion line will consist of approximately 30 pieces and be available to exclusive, discerning, digital consumers and select U.S. retail partners for their Fall/Winter launch, 2015. Plans are already being made for KARIGAM's first foray into NY's Fashion Week, this fall, with a sneak peek being planned for Miami.