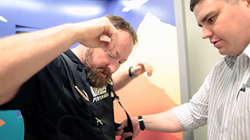 This Study is an important step in allowing our veterans to live better lives.
Dallas, Texas (PRWEB) February 11, 2015
Carrick Brain Centers has published its newest study that could potentially combat the overwhelming suicide rate, depression, sleep apnea and other lingering symptoms among veterans suffering from PTSD and TBI. These results in turn influence corrective patterns for societal reintegration as well as increased employment rates among veterans.
A new brain and vestibular rehabilitation treatment of Post-Traumatic Stress Disorder (PTSD) has demonstrated significant success for combat veterans. US Military Veterans from across the United States were involved in a two-week pilot program that does not involve drugs or surgery. The successful treatment has been pioneered at the Carrick Brain Centers (CBC) with clinical facilities in Dallas, TX and Atlanta, GA. Researchers at the CBC in Dallas, Texas have published the findings of their preliminary study in the journal, Frontiers in Public Health.
http://journal.frontiersin.org/Journal/10.3389/fpubh.2015.00015/abstract
Concussions from blast injuries cause Traumatic Brain Injuries (TBI's) and Post Traumatic Stress Disorder (PTSD) as the signature injuries suffered on the battlefield in Iraq and Afghanistan. Carrick Brain Centers is internationally known for its work with patients who have suffered concussions and regularly takes care of celebrity athletes and Olympians from around the world. Dr. Frederick R Carrick, the Director of Research at Carrick Brain Centers presented the findings at the December 2014 meeting of Harvard Medical School's GCSRT program in London, England. "We wanted to see how effective our treatments with professional athletes would work with PTSD patients that have suffered combat related Traumatic Brain Injuries and we are excited with our results," says Carrick. The study involved 98 combat veterans, the majority of them Special Forces personnel who suffered from PTSD. The published results demonstrated that the outcomes of this treatment are of great benefit to combat veterans with PTSD and TBI. "The treatment time is only 2 weeks and major changes in the lives of our veterans were demonstrated by observing a strong statistically significant decrease in the severity scores measured by the Gold Standard DSM-IV CAPS PTSD scores," says Dr. Cagan Randall, co-author of the study and Lead Clinician at CBC Headquarters in Dallas. Carrick Brain Centers notes that the study is a pilot or first step study that did not have a control or comparison group. "It was important for us to find out if our novel treatment approach had merit before we started the randomized placebo controlled trials that are necessary in clinical science. And it worked better than we hypothesized and now that we have published our pilot study, we are proceeding with other investigations that will give us the scientific clarity we will need to understand PTSD and its best treatments," says Dr. Andre Fredieu, Chief of Neurology at Carrick Brain Centers and landmark figure in the treatment and data collection of this study.
Marcus Luttrell, the author of the book made movie "Lone Survivor" was a patient at Carrick Brain Centers and says, "Our veterans lives are being given back to them in only two weeks, I have seen it myself and I am living proof".
[https://www.youtube.com/watch?v=a0WV8jXvcwQ
Even Glenn Beck, one of America's leading multi-media personalities, has been talking about the Veteran's Program. "I was a patient at Carrick Brain Centers and saw the most amazing things happening to so many people all around me. The Veterans treated at Carrick are receiving the necessary new therapies that are making a superior change in their ability to live their lives after brain injuries in a fashion that is miraculous," says Beck.
http://www.theblaze.com/stories/2014/11/10/glenn-beck-reveals-the-life-changing-pivot-point-he-has-kept-hidden-from-almost-everyone-for-five-years/
Dr. Brandon Brock and fellow researchers at the Carrick Brain Centers in Dallas, Texas are continuing their investigations into traumatic brain injury and PTSD with current registered clinical studies. "Its more than just the research, it's the relationships you build, it's the transformation back into society and it's a benchmark for new beginnings," says Brock. Kara Williams, the Director of Veteran's and Military Affairs at Carrick, coordinates the processing and treatment of our country's veterans with a dedication and passion that is seen by her tireless attention to our heroes.
"The Carrick Brain Centers research study published in Frontiers in Public Health Journal, is an important step in allowing our veterans to live better lives. They are excited and so are we. All of our subjects had PTSD that remained after receiving other treatments. This study demonstrated that our veterans suffering with the most severe level of PTSD had the best outcomes," says Dr. Jake Shores, Staff Clinician at CBC Dallas and landmark figure in our treatment and publishing efforts.
Frontiers Journal has recently won the Gold Prize and prestigious Innovation in Publishing Award issued by the Association of Learned and Professional Society Publishers (ALPSP) that acknowledges the best innovators in the scholarly publishing industry.
To see more links about Carrick Brain Centers and more info about this study please go to:
[http://www.cbn.com/tv/4013532075001
[https://www.youtube.com/watch?v=GHmCw_JwUT8