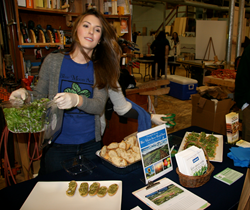 Many people think of the Bucks Locavore~Buy Local event as a business networking event. This event is much more – it is an experience. It's a business incubator.
Doylestown, PA (PRWEB) February 06, 2015
The community is invited to attend a unique networking opportunity hosted by Superior Woodcraft and the Central Bucks Chamber of Commerce. The 6th annual Locavore~Buy Local Event, celebrates and promotes independent, locally owned businesses in and around Bucks County, PA featuring over 25 of the region's top food and beverage purveyors.
Superior Woodcraft, Inc., nationally-acclaimed custom cabinetmaker and the Central Bucks Chamber Of Commerce have partnered together to host this unique networking event drawing hundreds to support independent businesses in and around Bucks County, Pa. Over five hundred guests are expected to gather at Superior Woodcraft on Thursday, February 26th, from 5:00 pm to 8:00 pm. Attendance is free and open to the public, all businesses as well as media organizations.
The Bucks Locavore 2015~Buy Local Networking Event, spotlights an array of locally grown and produced gourmet foods, beverages, and delicacies. Guests will savor the cuisine and network inside a historical factory building where custom cabinets are handcrafted. Local business owners can make new connections and strengthen existing business relationships while learning more about the exceptional quality and diversity of locally available goods, products and services.
Over twenty five local producers will be offering scrumptious samples of their products, including Ayala Herbal Water, Bill's Best BBQ Sauces, Blue Moon Acres, Bucks County Brewery, Bucks County Preserves, Buckingham Valley Vineyard, Castle Valley Mill, Crooked Eye Brewery, Confection Perfection, Doylestown Brewing Company, Giggling Goat Dairy, Graziano's Sauces, Homestead Coffee Roasters, JustFood, Laurie's Chocolates, Mainly Mushrooms, The Market at Del Val College, Nina's Waffles, Olive Oil Etc., Perfect Coffee, Pig and Hen Catering, Rabbit Run Farm, Sweet Victory Gluten and Dairy Free Treats and Wycombe Vineyards.
The buy-local movement in Bucks County has matured in the last several years as residents and businesses alike unify to keep dollars circulating within their own communities and, as a result, are experiencing markedly stronger revenue growth. The Bucks Locavore event is one of the largest and few of its kind in the area encouraging business networking while offering a fresh perspective on what it means to shop the local vendors.
Patrick Kennedy, VP of Superior Woodcraft says, ""Many people think of the Bucks Locavore~Buy Local event as a business networking event. This event is much more – it is an experience. It's a business incubator. Many business relationships and new products have been created from the local companies that participate in this experience. They start collaborating and next thing you know business relationships are formed and new products are developed. Real business and economic growth is being created. A perfect example is the business relationship that developed between Laurie's Chocolates, Doylestown Brewing, Homestead Coffee and Rose Bank Winery."
Patrick's example refers to award winning chocolatier, Laurie's Douglass of Laurie's Chocolates. After having previously participated in Bucks Locavore, Laurie formed new alliances and is now incorporating these companies' products into her delectable treats. Laurie has used exceptional wine from Rose Bank Winery and the high quality coffee of Homestead Coffee Roasters in her fabulous chocolate delights, Her Tavern Toffee, which infuses Doylestown Brewery's, R5 Lager into her mouthwatering toffee, will be featured in the brewery slated to open soon. Laurie doesn't miss participating in Bucks Locavore because she says, "The fact I don't have a retail location its great visibility".
Many participating vendors have shared marketing success stories resulting from Bucks Locavore~Buy Local. Trevor Lewis from Homestead Coffee Roasters mentions, "Its great strengthening business relationships in Doylestown, meeting other business owners. This event attracts so many people the face to face is invaluable". Jennifer Estes, Brand Manager from Doylestown Brewery believes it's all about supporting each other as she commented, "We are proud to participate in Locavore because Doylestown Brewing Company believes creating a sense of community among business owners is vital to keeping Doylestown a thriving retail/hospitality destination. We will support that effort in every way we can and this is a perfect event to connect and share ideas with our community business leaders."
When you partner the enthusiasm and influence of the Central Bucks Chamber of Commerce with businesses like Superior Woodcraft, the buy local movement is thrust even further into the public eye, reminding people how crucial it is to reinvest in the economy where they reside. The result is a stronger local economy which in turn improves schools, creates local youth programs, builds parks, maintains and increases property values, supports local infrastructures and public assets. At the end of the day, every member of the community can benefit from the Bucks Locavore ~Buy Local event.
About Superior Woodcraft, Inc.
Superior Woodcraft, in Doylestown, PA, designs and handcrafts heirloom-quality cabinetry for the whole home with sustainable methods and materials, providing beauty, utility and peace of mind. Family owned and operated since 1967. http://www.superiorwoodcraft.com
About the Central Bucks Chamber of Commerce
The Central Bucks Chamber of Commerce established in 1946, is now second only in the region after the greater Philadelphia Chamber of Commerce with memberships of approximately 2,000 businesses and growing. Strong alliances of business and culture, profit and non-profit, established and emerging businesses provide the dynamics of Chamber membership. To do business in Bucks County, membership in the Central Bucks Chamber of Commerce is an essential and powerful tool. The Chamber is the business voice of the region. http://www.centralbuckschamber.com