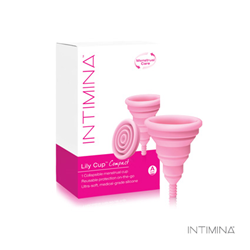 Lily Cup™ Compact is the first collapsible menstrual cup ever created, and solves both the environmental and health aspects of period care while introducing a new level of convenience.
Stockholm/San Jose (PRWEB) February 04, 2015
Swedish brand Intimina launched its funding project for the world's first collapsible menstrual cup – Lily Cup™ Compact – on crowd-funding website Kickstarter, which recently finished with 8530 backers from over 50 countries worldwide and reached 4000% over the original crowd-funding target. This places the campaign in the top 2% of the most funded Kickstarter projects ever. Gaining support from America to Zambia, the campaign has hit the headlines around the world and brought menstrual cups into the mainstream spotlight.
The success of Lily Cup™ Compact on Kickstarter begins a new era for menstrual cups. A US woman will, in her lifetime, use and dispose of 12,000 pads or tampons, and the menstrual product waste created by US women each year averages 270,000 tons: that's equivalent to the weight of six Titanics. The health impact of pads and tampons has also recently been put in the spotlight, with research showing that they can contain traces of toxic chemicals.
Reusable menstrual cups, which eliminate these waste and health issues, are attracting a growing following from women. In fact, research has also shown that 9 out of 10 women who try a cup would recommend it to a friend. So why are they not more widely known and available? Sanitary product manufacturers make huge profits from the guaranteed monthly repurchase of their disposable products, which fund advertising campaigns that menstrual cup companies struggle to compete against.
Intimina is challenging the daily norm and striving to ensure women around the world have a healthier, eco-friendly and economical option when choosing their period protection. The brand's original Lily Cup™ menstrual cup, as well as the new Lily Cup™ Compact mark a new generation in period protection: ultra-soft, reusable menstrual cups made of medical-grade silicone.
Collecting rather than absorbing menstrual flow, they respect a woman's intimate balance and don't cause the dryness often associated with tampons. Lily Cups™ are perfectly shaped to fit the female body for total comfort. Because it lasts for years, just one Lily Cup™ or Lily Cup™ Compact can do the job of over 1625 pads or tampons.
Lily Cup™ offers 12 hours of non-stop protection and accommodates the user's lightest to heaviest flow. Inspired by nature, it has a unique shape that perfectly fits the female form. Its advanced design features, such as the non-spill rim, make insertion easy and removal a breeze.
Lily Cup™ Compact is the first collapsible menstrual cup ever created, and solves both the environmental and health aspects of period care while introducing a new level of convenience. Its unique design can fold flat and fit into a small protective case no bigger than a tin of lip balm. This is perfect for carrying around in a bag or pocket, ready for the user to simply pop it open when her period starts.
Each Intimina product benefits from the excellence and innovation of the brand's designers in Sweden, combined with the practical clinical experience of medical advisory board experts. Intimina's products are developed to the highest international quality and safety standards, to respect and maintain a woman's health and natural balance.
Note to Editors: All media inquiries can be directed to lucy.lynch(at)intimina(dot)com
Established in 2009, Intimina is the only global brand that offers a complete line of products solely for the benefit of women's intimate well-being. With three care ranges – Menstrual Care, Pelvic Floor Strengthening, and Feminine Wellness – Intimina has products for women of all ages. Every product is made from the highest quality body-safe materials, and has been designed and tested with the support of a worldwide group of medical consultants and gynecologists. For more information, visit http://www.intimina.com.