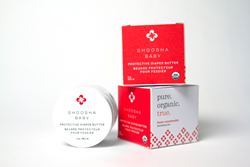 Toronto, ON (PRWEB) February 05, 2015
For parents looking for skin care products to use on their babies' sensitive skin that are both safe and made of simple and pure formulations, look no further than Shoosha Truly Organic Skin Care. Created in 2012 by businesswoman and mom Patricia Di Gasbarro, Shoosha is a USDA Certified Organic skin care line for both moms and babies that parents can trust.
In 2010, Di Gasbarro set out on a mission to lead a cleaner, healthier lifestyle for herself and her family. She quickly discovered a lack of standards in the personal care industry and realized that companies could promote "natural" products that often times contain residual pesticides and herbicides that end up being absorbed into the bloodstream. She also learned from a report from the Environmental Protection Agency that children accumulate up to 50% of their lifetime cancer risk by the age of two as a result of exposure to environmental toxins including skin care products. Being a mom, herself, Di Gasbarro was alarmed by this news and set out on a mission to create a nourishing organic line of skin care for babies that parents could trust.
"Despite all the care and attention I had taken as a mom, I had been exposing my children to toxic chemicals for their entire young lives," explains Di Gasbarro. "I knew that I wasn't alone and I made it my mission to create a Certified Organic skin care line with pure and simple formulations, and labels that were easy to understand."
After consulting with certified aromatherapists who specialize in baby care, Patricia began experimenting at home in her kitchen creating butters, balms and lotions from organic ingredient—soon, Shoosha was born. Now, Shoosha is the only complete line of USDA Certified Organic, food grade, personal care products – meaning all products contain a minimum 95% certified organic ingredients – for babies and moms in North America. All of Shoosha's products are doctor recommended for sensitive to normal skin and are GMO Free, Gluten Free, Soy, Corn and Dairy Free, Lanolin Free, 100% biodegradable and never animal tested. The organic certification goes beyond the absence of parabens, phalates, petrochemicals, formaldehyde, DEAs and other harmful ingredients. Each product uses only surfactants from organic sources, not petro chemicals, and ingredients processed via hydrogenation or sulfation, and synthetic preservatives are all entirely prohibited, as are synthetic perfumes.
Shoosha Truly Organic Skin Care's line includes:

Protective Diaper Butter ($17.99): Packed with pure, organic and therapeutic oils such as Evening Primrose, Chamomile, Calendula and Coconut Butter, this rich protective barrier cream works beautifully together to protect your baby's bottom and heals skin irritations such as diaper rash.
Rescue Nipple Butter ($16.99): This miracle pot is packed with pure soothing therapeutic oils and butters such as Chamomile, Calendula, Sea Buckthorn Berry Oil and Cocoa Butter that will help calm, restore, moisturize and protect your sore nipples. It's great for chapped lips too.
Calm Baby Massage Oil ($19.99): Using the finest and purest organic food grade oils infused with organic herbs such as Chamomile and Calendula, this massage oil has both anti-inflammatory and calming properties that will help your baby relax, cry less and sleep better.
Gentlest Baby Wash & Shampoo ($16.99): Baby skin is about ten times thinner than adults, and their sebaceous glands that secret natural oils are not fully developed. This newly reformulated creamy and gentle wash provides the prefect balance of cleansing and moisturizing.
Replenish Baby Lotion ($17.99): This light lotion, also recently reformulated, is the perfect blend of plant oils and extracts such as Evening Primrose, Calendula, Aloe Vera and Chamomile Tea that will hydrate, soothe, and protect your baby's delicate skin while also keeping your hands silky smooth too.
Rejuvenate Stretch Mark Serum ($29.99): This gorgeous Rejuvenate Stretch Mark Serum is packed with organic therapeutic oils that work on a cellular level to help prevent, minimize and improve the appearance of stretch marks, repair environmental damage, and help fade scar tissue. Formula is an organic blend of therapeutic oils including Neroli, Rose Hip, Tamanu, Lavender and Borage.
Shoosha Organic Skin Care is available in the United States and Canada both in store and online at http://Shooshatrue.com/.
About SHOOSHA Truly Organic
Pure, organic and true, SHOOSHA baby truly organic is a nourishing and beautifully formulated line of skin care products created to protect, nourish and replenish babies' skin. SHOOSHA is the only complete product line available for infants that is USDA organic food grade certified. Why food grade? Organic food grade standards are far higher than organic personal care standards. SHOOSHA believes nothing less than the purest, highest standard is good enough for you or your children. For more information, please visit http://www.ShooshaTrue.com.