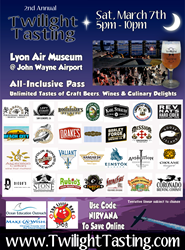 The dazzling Twilight environment lures craft beer fans, wine enthusiasts, philanthropists, business movers and shakers, and anyone seeking a remarkable tasting experience.
Newport Beach, California (PRWEB) February 05, 2015
Taste of Brews' upscale Twilight Tasting event marks its triumphant return to the spectacular Lyon Air Museum on Saturday, March 7 for a remarkable evening featuring unlimited tastes of premium craft beers, hard ciders, wines and culinary delights all benefiting charity. Please visit http://www.twilighttasting.com for tickets and information.
Twilight Tasting's "all-inclusive" boarding pass provides first-class access to the stunning WWII-era museum where attendees are issued a "ration card" checklist (similar to those distributed during the big war) to help locate more than two dozen sampling vendors arranged under the wings of rare operational aircraft, adjacent to riveted metal fuselages, amidst vintage military vehicles and atop the "Twilight Observation Deck" with fabulous views overlooking the entire venue. Vintage posters, galvanized trash cans and custom "pour out" buckets with industrial oil funnels add to the theme while fatigue-clad Navy service members volunteer bartend.
Twilight Tasting ushers in spring with the latest award-winning and limited edition offerings from extraordinary craft breweries. Several OC breweries are in the Twilight mix including Beach City and Four Sons (Huntington Beach) and Barley Forge (Costa Mesa); bringing a new energy and enthusiasm to the local craft beer scene. Not to be outdone Valiant (Orange), Bootleggers (Fullerton), Phantom Ales (Anaheim) and Left Coast (San Clemente) bring a different vibe to Twilight along with some amazing locally brewed craft beer.
San Diego County provides Coronado, Karl Strauss, Stone and Mission Brewery while Hangar 24 (Redlands) and Absolution (Torrance) represent the IE and South Bay. The eclectic Twilight lineup also features Firestone Walker (Paso Robles), Drakes (San Leandro), Einstok (Iceland), Lagunitas (Petaluma), Sierra Nevada (Chico) and Goose Island (Chicago, IL). The rapidly growing hard cider community is represented by Reverend Nat's (Portland, OR), Wood Chuck (Middlebury, VT) and Phantom Ales.
Eateries providing culinary delights include BBQ Tri Tip from Stonefire Grill (Huntington Beach), Blackened Tilapia Tacos from Rubio's (Costa Mesa/Santa Ana), Chicken Mole from Diego's Downtown (Santa Ana) and desserts from Nothing Bundt Cakes (Newport/Costa Mesa) and Paradise Bakery (Mission Viejo) with more restaurants and bakeries to be announced soon. For those attendees with grape expectations, premium wines are provided by Ascension Cellars (Brea), Pozzuoli Winery (Tustin), Cholame Vineyards (San Miguel), and others. Your first class tasting experience includes a charity auction/raffle, live musical entertainment by the ladies of Rocky's Revival, refreshments, five-star valet parking and a souvenir tasting glass (not plastic).
The dazzling Twilight environment lures craft beer fans, wine enthusiasts, philanthropists, business movers and shakers, and anyone seeking a remarkable tasting experience. Attendees can consume charitably and bid on silent auction and raffle items including art, golf, sporting events and craft beer packages to support our charity partners. Twilight Tasting's beneficiaries include Make-A-Wish Orange County/Inland Empire (Irvine), The Little Red Dog (Tustin), Ocean Education Outreach (Newport Beach) and Camp Pendleton's 1st Marine Division.
Twilight Tasting hours are 5:00pm to 10:00pm (alcohol service ends at 9pm). Current online prices for all-inclusive boarding passes are $80 with excellent group discounts available; prices will be higher at the door (if available). The event features "cocktail seating" and an open floor plan with reserved tables available for an additional fee. The Lyon Air Museum is located at 19300 Ike Jones Dr., Santa Ana. Attendees must be 21 or above. Visit http://www.tasteofbrews.com to purchase tickets or call (714) 375-1132 for more information.
http://www.instagram.com/tasteofbrews
http://www.facebook.com/tasteofbrews
http://www.twitter.com/tasteofbrews